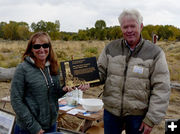 National Register plaque

Jeness Saxton accepts the National Register plaque for the New Fork Crossing on behalf of the Sublette County Historical Society from Clint Gilchrist, President of the Sublette County Historic Preservation Board. Photo courtesy Joy Ufford, Sublette Examiner.

New Fork Park Open House & History Talk Sept. 16
Original post September 6, 2017 | Updated September 17, 2017
The Sublette County Historical Society invites everyone to come out to the Lander Trail-New Fork River Crossing Historical Park on Saturday, September 16th for their Open House and a history talk. The open house is in celebration of the New Fork Crossing being recently listed on the National Register of Historic Places.

"Bring a lunch" at noon meet at the picnic tables in the group gathering area at the entrance. During lunch, Clint Gilchrist will give a history talk about the Lander Trail and dairy accounts from emigrants staying at the New Fork Crossing on their way to Oregon and California. Drinks and cookies refreshments will be available.

There will be a raffle for a William Henry Jackson framed print of a painting of emigrant wagons along the Oregon Trail in Wyoming.

After the talk, there will be a short presentation of the National Register plaque to the Sublette County Historical Society. Afterwards, enjoy the afternoon at your leisure and walk the nature trail and read the interpretive signs. Bring the kids and your fishing pole. Well-behaved dogs welcome.

The 100-acre historical park is owned and managed by the Sublette County Historical Society.


Related Links