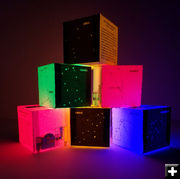 Constellation Cubes

Activity at Pinedale Art & Craft on Friday, September 8 at 7 p.m. Pinedale Fine Arts Council presentation.


Make LED Constellation Cubes at PFAC's 'Maker Night' Sept. 8
by Pinedale Fine Arts Council
September 6, 2017

The Pinedale Fine Arts Council is proud to present its first ever "Maker Night" at Pinedale Art & Craft on Friday, September 8 at 7 p.m.

Unplug, unwind and ignite your creativity during this fun-filled evening of discovery with guest instructors Monica & Tyler Aiello of the Denver-based STEAM organization EUREKUS.

Part workshop, part social lounge - have a blast while connecting with other creative types! Mix, mingle, design and investigate in this 90-minute (approx.) workshop where we will explore sky stories, solder a circuit and make an LED Constellation Cube. Light snacks and adult beverages will be provided.

Price for the Maker Night is $30/person or $50/couple. This price includes all materials to build the constellation cubes. Pay at-the-door or signup and pay in advance at pinedalefinearts.com.