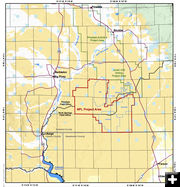 NPL

Location of the proposed NPL gas field.


NPL gas field EIS released
by Cat Urbigkit, Pinedale Online!
July 7, 2017

On Friday (July 7, 2017) the Bureau of Land Management (BLM) released its draft environmental impact statement for a major natural gas development in Wyoming.

The Draft Environmental Impact Statement (DEIS) for the Normally Pressured Lance (NPL) Natural Gas Development Project identifies a range of alternatives as to how the project can move forward. The document is available for a 45-day public comment period.

The proposed project, which was submitted by Jonah Energy LLC, could unlock 5.25 trillion cubic feet of natural gas, providing a reliable, long-term energy source for the nation and creating more than 700 full-time jobs and stable employment opportunities for southwestern Wyoming, according to the agency. The project could also create $2.2 billion in royalties, half of which would go to the State of Wyoming.

The project encompasses approximately 141,000 acres of public, state, and private lands, with the vast majority ó approximately 96 percentólocated on public lands.

Situated south and west of the existing Jonah Gas Field in Sublette County, the project proposes up to 3,500 directionally drilled wells over a 10-year period. Most wells would be co-located on a single pad, with no more than 4 well pads being constructed per 640 acres. On average, each well pad would be 18 acres in size. Associated access roads, pipelines, compressor stations and other facilities would be co-located where possible to further minimize surface disturbance.

Jonah Energy anticipates drilling at an average well density of one bottom-hole per 40 acres. Disturbance for each multi-well pad location would range between approximately 5.5 and 19 surface acres, with each multi-well pad supporting up to 64 wells. Ancillary facilities associated with the proposed natural gas wells include standard equipment on well pads (e.g., well heads, solar panels), water disposal wells, existing and new pipelines, powerlines, access roads, and regional gathering facilities (RGFs).

The exact locations of wells and ancillary facilities have not been identified at this time. Placement of final surface locations on BLM-administered land would be contingent on any environmental constraints identified during the Application for Permit to Drill (APD) process and the onsite inspection reviews conducted by the BLM.

The Proposed Action would result in an estimated short-term surface disturbance of up to 6,340 acres within the Project Area (4.5 percent of the Project Area). Up to 1,890 acres (or 1.3 percent of the Project Area) may remain disturbed for the life of the project, consisting of permanent facilities (e.g., RGFs), access roads, and equipment areas needed for ongoing production, servicing, and maintenance activities.

In addition to the proposed alternative, the EIS examines two other alternatives. Alternative A was designed to address sensitive wildlife resources. The maximum number of wells would be the same as the Proposed Action, but the location, timing, and pattern of development would be different than the Proposed Action with the timing of development occurring sequentially in three geographically defined phases. The maximum allowable density of development within identified Development Areas (DAs) would be largely driven by the presence or absence of delineated wildlife habitats in a given DA and the expanse of those habitats, if present.

Alternative B is the BLM's Preferred Alternative. The number of wells would be the same as in Jonah's proposal, but but the DA 1 area would have a reduced density of development, reduced surface disturbance, and more clustering of disturbance locations to reduce impacts to a range of sensitive resources in this area. Sage-Grouse Winter Concentration Areas would have additional resource protection measures including a disturbance threshold, phasing development from east to west, and centralizing above-ground facilities. For Alternative B, buried pipelines would be constructed to transport produced water and condensate from RGFs within Sage-Grouse Winter Concentration Areas and PHMA to RGFs outside of these areas. The development period would be slightly longer than that of the Proposed Action, resulting in slightly fewer new wells drilled per year (on average).

The BLM must receive comments by August 21, 2017. Comments can be emailed to blm_wy_npl_eis@blm.gov or mailed to the following address:
NPL EIS Project Manager
BLM Pinedale Field Office
P.O. Box 768, Pinedale, WY 82941

The BLM will also hold two public meetings on the project on the following dates and locations:

Tuesday July 25, 2017
BLM Pinedale Field Office
1625 West Pine Street
Pinedale, Wyoming 82941

Wednesday July 26, 2017
BLM High Desert District Office
280 Highway 191 North
Rock Springs, Wyoming 82901

All project documents are available for public review at the link below.




Related Links
NPL DEIS - Bureau of Land Management