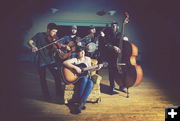 Laney Lou and the Bird Dogs

Performing in Pinedale on July 4th for the Pinedale Fine Arts Councilís (PFAC) Soundcheck Summer Music Series kick off during the Town of Pinedale Independence Day celebration.


Laney Lou & the Bird Dogs in Pinedale July 4
PFACís Soundcheck Series
by Pinedale Fine Arts Council
July 2, 2017

The Pinedale Fine Arts Councilís (PFAC) Soundcheck Summer Music Series kicks off on July 4th with high-energy Bozeman, Montana bluegrass band Laney Lou and the Bird Dogs. Special guests The Jason Tyler Burton Band will open the show.

All Soundcheck shows take place at American Legion Park and are free to the public! Music starts at 5pm.

This particular Soundcheck will coincide with the Town of Pinedaleís annual 4th of July Picnic (2pm-4pm, Free). So come early for the picnic (please bring a side) and stay late for the fireworks!

Laney Lou and the Bird Dogs have been forging a fresh and energetic sound in the northwest music scene since 2013. Their live show is highlighted by unbridled energy and punctuated by songs performed with fervor and rock 'n' roll swagger. The Bird Dogs push the envelope of what a string band is generally described as by fusing songs from folk, country, and rock. Theyíve been hitting the road hard for the last three years, sharing stages with the likes of Corb Lund, Hayes Carll, Hurray for the Riff Raff, The Mavericks, Wynonna Judd, Mark Chesnutt, The Lilí Smokies and many more. The Bird Dogs released their first album in the spring of 2016. Recorded live at Basecamp Studio, the album is one that reflects their live show and makes you want to stomp your feet and crack open a beer.

Born under the big sky in Bozeman, Montana, Laney Lou and the Bird Dogs consist of Matt Demarais on vocals/banjo, Ethan Demarais on bass, Lena Schiffer on vocals/guitar, Brian Kassay on fiddle/mandolin, and Josh Moore on vocals/guitar.

Opening the July 4 show will be local singer/songwriter Jason Tyler Burton and his 3-piece band. Burtonís brand of Americana music is heart felt, reflecting the landscape of the American West in a search for meaning and home, with stories that invite you to lean in a little, and really listen.

The Soundcheck Summer Music Series is presented by the Pinedale Fine Arts Council with support from the Town of Pinedale, The Pinedale Travel and Tourism Commission, The Sublette County Recreation Board and the Wyoming Cultural Trust. For more information visit pinedalefinearts.com.