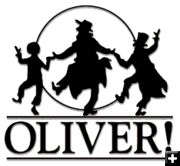 Oliver

Show dates are October 26, 27 and 28 in the Pinedale Auditorium.

Auditions coming up for 'Oliver'
Auditions in August, Performances in October
July 26, 2017
Pinedale Community Theatre's (PCT) Managing Director, Valerie Lee is encouraging everyone to get ready for auditions for PCT's upcoming production of "Oliver" by Lionel Bart based on the novel "Oliver Twist" written by Charles Dickens.

The production has a cast of 28 with roles for 12 children.

PCT board members will conduct workshops for aspiring actors, singers and dancers to prepare for auditions. Workshops are scheduled on August 8 from 6 to 8PM at the Pinedale High School (PHS) auditorium for children 6 to 13 and again on August 9, from 6 to 9PM at the PHS auditorium for high school students and adults of all ages. Sessions will cover singing, dancing and acting and all participants are encouraged to take advantage of the opportunity to learn what happens at auditions and how to get ready to participate.

Auditions for Oliver are scheduled August 24, 25 and 26 at the PHS auditorium. Show dates for the production of Oliver are October 26, 27 and 28 in the auditorium.

Scripts and vocal scores are available at the Pinedale Fine Arts Council office in Pinedale.

Call Kari DeWitt at 307-231-3210 or email kari@pinedalefinearts.com for appointments or more information. Additional information is also on PCTs website pinedaletheatre.com.