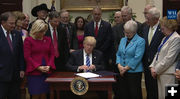 Signing the bill

President Trump signs the bill repealing the BLM's Planning 2.0 rule. Attending the signing ceremony at the White House were Wyoming Represenative Liz Cheney (left, pink top), Sublette County Commissioner Joel Bousman (left, wearing the black cowboy hat), and U.S. Senator John Barrasso (Wyo) to the right of Liz Cheney. White House photo.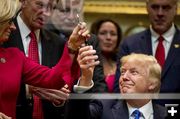 Giving Liz the pen

President Trump gives Wyoming Rep Liz Cheney the pen after signing the bill. White House photo.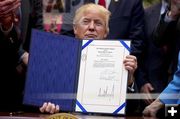 Signed bill

President Trump holds up the signed bill. White House photo.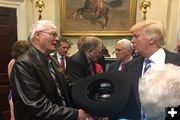 Cowboy hat

Sublette County Commissioner chair Joel Bousman (left), a fourth generation rancher out of Boulder, Wyoming, gives his cowboy hat to the President (right). "That was the best hat I ever had," Bousman said. "Have to hit up Bob Bing for a new hat." Photo by Senator John Barrasso.


Commissioner Joel Bousman to attend signing ceremony at the White House for the bill to repeal Planning 2.0 on Monday, March 27, 2017
by Dawn Ballou, Pinedale Online!
Original post March 26, 2017 | Updated March 27, 2017

Update from Commissioner Bousman, Monday, March 27, 7:00AM: "The word I get this morning is that the time has been moved to 3PM ET and that it will likely be televised. No idea if live or to be on later news."
__________________________________

Sunday:
Sublette County Commissioner Joel Bousman received a special invitation to attend the signing ceremony with President Trump at the White House in Washington DC on Monday, March 27th as the President signs the bill to repeal the controversial BLM Planning 2.0 rule.

As written, the new rule diluted county input into land management decisions and hinder local government consultation and collaboration with BLM. BLM's Planning 2.0 rule was published on December 13, 2016 and went into effect on January 11, 2017. The National Association of Counties (NACo) and over 60 other groups that represent a broad cross-section of public lands stakeholders supported legislation disapproving of the Planning 2.0 rule. On January 26, NACo joined with 23 state associations of counties, national, regional and state level organizations representing public lands stakeholders in sending a letter urging disapproval of the Planning 2.0 Rule. On February 8, the U.S. House of Representatives passed H.J. Res. 44, a resolution disapproving of the U.S. Bureau of Land Managementís (BLM) Planning 2.0 rule. Commissioner Bousman was involved in this process as Sublette Countyís commission representative and as being the President of the Western Interstate Region of Counties (WIR).

The honor invitation came to Commissioner Bousman as a phone call late on Friday, March 24th. He and Nevada Commissioner Jim French we selected as the two county commissioner representatives from across the nation to be at the signing ceremony. The two had been deeply involved in the county input process to argue against Planning 2.0.

With approximately 80% of Sublette County as public land, the new rule effectively moving the decision-making process away from local input could have had a significant negative impact on decisions being made about public land in Sublette County.

Commissioner Bousman made fast travel arrangements and caught a plane from Jackson Hole to Washington D.C. early Sunday morning. The signing ceremony will be on Monday, March 27th at 2:30PM at the White House. NACo is picking up the tab for the travel expenses for the two commissioners.

Pinedale Online has not heard yet if the signing ceremony will be televised or not. We will post a notice if we get word, (but it will probably be short notice, so check back if you are interested in seeing this).





Related Links