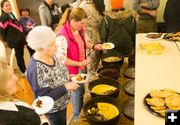 Dutch Oven delights

The Marbleton/Big Piney crowd always puts on a delicious Dutch Oven feast for their Mushers Dinner. Photos by Chris Havener, Pedigree Stage Stop Race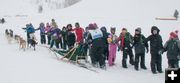 Kid send off

It's always fun to see so many children come to the race start and the teams love the enthusiastic send off!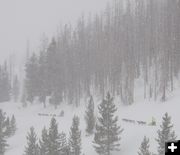 Through the mountains

This stage takes teams through the scenic Wyoming Range mountains, although this year the snowy conditions obscured a lot of the broader view.

2017 Pedigree Stage Stop Race – Big Piney/Marbleton Stage
February 5, 2017
The Big Piney/Marbleton Stage of the 2017 Pedigree Stage Stop Race was held on Thursday, February 2nd. The Start/Finish line was at the Middle Piney parking area that leads into the Wyoming Range. This leg was a 43-mile loop course that goes into the scenic Wyoming Range mountains, although this year with the snow and low ceiling teams didn't get to see very much of that pretty landscape. The Meet the Musher Dinner was held on Wednesday evening, February 1st in the Southwest Sublette County Pioneers Senior Center in Marbleton.

Big Piney/Marbleton Stage Results:
2/2/2017 – Day 5, 43 miles

Position Musher Left, Position Musher Finished, Bib #, Musher Start Time, Finished Time, Elapsed Time, Average MPH, Next Day Start Time
14, 1, 9, Lina Streeper, 0:39:00, 4:14:19, 3:35:19, 12, 9:39
13, 2, 8, Dave Torgerson, 0:36:00, 4:15:19, 3:39:19, 11.8, 9:36
12, 3, 7, Bruce Magnusson, 0:33:00, 4:21:43, 3:48:43, 11.3, 9:33
11, 4, 11, JR Anderson, 0:30:00, 4:25:50, 3:55:50, 10.9, 9:30
9, 5, 1, Alix Crittenden, 0:24:00, 4:24:38, 4:00:38, 10.7, 9:27
10, 6, 13, Dennis Laboda, 0:27:00, 4:28:34, 4:01:34, 10.7, 9:24
8, 7, 10, Jerry Bath, 0:21:00, 4:24:47, 4:03:47, 10.6, 9:21
7, 8, 3, Jeff Conn, 0:18:00, 4:23:38, 4:05:38, 10.5, 9:18
6, 9, 2, Jerry Scdoris, 0:15:00, 4:28:12, 4:13:12, 10.2, 9:15
4, 10, 5, Austin Forney, 0:09:00, 4:30:18, 4:21:18, 9.9, 9:12
5, 11, 12, Frank Moe, 0:12:00, 4:44:54, 4:32:54, 9.5, 9:09
3, 12, 6, Laura Daugereau, 0:06:00, 4:54:16, 4:48:16, 9, 9:06
2, 13, 4, Chris Adkins, 0:03:00, 5:13:46, 5:10:46, 8.3, 9:03
1, 14, 14, Jeff Adkins, 0:00:00, 5:30:46, 5:30:46, 7.8, 9:00

Big Piney/Marbleton Stage Supporters:
Marbleton Inn
Hughes Enterprises Inc.
Surveyor Scherbel Ltd.
Town of Big Piney
Town of Marbleton
Western Veterinary Services
Big Piney Elementary 3rd Grade Class
Leftovers of Wyoming Inc
Meadow Canyon Ready-Mix Inc
Southwest Sublette County Pioneers
Williams

Photos by Chris Havener, Pedigree Stage Stop Race