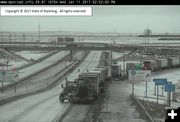 Must Exit

Motorists must exit at road closure points. WYDOT I-80 webcam photo.


Donít run the gates
Road closures are for public safety
by Wyoming Highway Patrol
January 12, 2017

As winter weather continues to impact many Wyoming highways, with some leading to highway closures, a recent event on South Pass between Farson and Lander highlights why it is important to heed the road closures.

On January 11th, the Wyoming Highway Patrol received a call from a stranded motorist on Wyoming State Highway 28, which had been closed for nearly two days. The motorist had went around the road closure gate near Farson and ran into poor road conditions and became stuck near milepost 41 in a snow drift. South Pass area Wyoming Department of Transportation (WYDOT) crews had to plow a path out to the motorist, shovel them out, and escort them to safety. A responding Trooper met the motorist near the South Pass service road and escorted them the rest of the way out so the plows could resume clearing the highway.

WY 28 has very little cell phone service. Had this been the day prior and in a different location on WY 28, the driver would have been on their own to survive the elements due to white out conditions. The driver was apologetic for making WYDOT and the WHP rescue them. The motorist had become concerned because they only had a quarter tank of fuel left and a prior medical condition. The motorist was cited for traveling on a closed highway and sent on their way.

This event underscores the importance of staying off closed highways. The decision to go around the road closed gate put their life in jeopardy with the weather conditions, as well as the possibility of being hit by a plow that does not expect to have any other vehicles on the highway. When drivers willfully go around a road closed gate without proper authorization, they can expect a $420 fine when caught.

Motorists are reminded to check www.wyoroad.info or dial 511 for the latest road conditions. The website will also allow drivers to sign up for Wyoming Authorized Travel (WAT). WAT allows drivers, in certain circumstances, to travel on closed portions of state highways when in effect. The WHP also asks that motorists refrain from calling their local or WHP dispatch centers to inquire when highways will open. The latest information will always be posted on the website or by dialing 511.