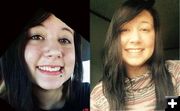 Missing - Taylar Haddock

Please report any sightings or information to the Sweetwater County Sheriff's Office, (307) 875-1400.


Sheriff's Office seeking information on missing girl
16-year old Taylar Haddock missing
by Sweetwater County Sheriff's Office
December 6, 2016

ROCK SPRINGS, WYOMING December 5, 2016 - The Sweetwater County Sheriff's Office is seeking information on a missing teen.

Taylar Rae Haddock, 16, was last seen at her home on Antelope Drive north of Rock Springs around 6:00 PM on Saturday, December 3. At the time she was wearing dark grey sweat pants, a navy blue or black hoodie, and black Adidas shoes.

Taylar is described as a white female 5'6" in height, weight around 155 pounds with long brown hair and brown eyes. She has friends in the Green River and Lander areas as well as in Rock Springs.

Anyone with information about Taylar is asked to contact the Sheriff's Office at (307) 875-1400 or other local law enforcement agency. Calls will be handled with discretion.