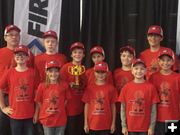 Cowboy Joes

Sublette County Robotics Team: Back Row Andy Adkins, Ethan Adkins, Thane Daniels, Brooke Noble, Noah Adkins, Sandra McLouhlin. Front Row: Brycen Vrska, Adrianna Daniels, Wyatt Griffin, Liam Walker and Garrett Swain. Photo courtesy Sublette County 4H.


Local 4-H Robotics team wins Second Place Overall
At the 11th Annual First Lego League Wyoming Championships in Casper
by Sublette County 4-H
December 14, 2016

For the 9th year, Pinedale was represented at the First Lego League (FLL) championships December 3rd at the Casper Events Center. The team was made up of Pinedale Elementary and Pinedale Middle School students and sponsored by a grant from Sublette BOCES and Sublette County 4-H. Team "Cowboy Joes" was made up of: Brooke Noble, Eva Collins, Thane Daniels, Adrianna Daniels, Liam Walker, Wyatt Griffin, Brycen Vrska, Garrett Swain, and Noah and Ethan Adkins.

The team met from September to the first of December perfecting their robot design and working on their research project for this yearís theme "Animal Allies."
The team designed an underwater robot that could be used to move fish trapped in irrigation channels when water flow decreases in the fall.

The team learned about how underwater robots work from Tip Top Search and Rescue thanks to a great demonstration at the Pinedale Aquatic Center by John Linn. The team also learned about fish from a tour of the fish hatchery in Daniel.

Once they built their prototype robot, they tested it at a team memberís pond. The team then shared the results of their research project and their findings with the Conservation District, the Game and Fish and the UW Extension Office.

The Cowboy Joes earned second place overall at the Wyoming FLL Robotics Championships by demonstrating outstanding teamwork, having a solid research project, having a well-designed robot with advanced programming skills and for their solid robot performance.

The team competed against 56 other teams from throughout the state of Wyoming and earned the second place overall champions award.

The team was coached by Sandra McLoughlin and Andy Adkins and was assisted throughout the year by teen mentor Isie McLoughlin.

First Lego League is a robotics program for 9 to 14 year olds, which is designed to get children excited about science and technology -- and teach them valuable employment and life skills. FLL can be used in a classroom setting but is not solely designed for this purpose. Teams, comprised of up to ten children with at least one adult coach, can also be associated with a pre-existing club or organization, homeschooled, or just be a group of friends who wish to do something awesome.