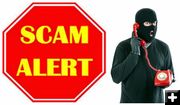 Beware Phone Scammers

Conmen claim they will shut down your power unless you pay your bill immediately. Rocky Mountain Power will never call you this way.


Beware utility bill phone scam
Telling victims their electricity will be cut off immediately if don't pay bill
by Rocky Mountain Power
December 7, 2016

Editor's note: We are reposting an earlier media release from Rocky Mountain Power regarding scam phone calls demanding payment for power bills. Scam phone calls of this nature have been reported going around again in Pinedale recently.
______________________________________________________

Rocky Mountain Power is warning the public of several recent phone and email scams targeting utility customers nationwide where crooks posing as company employees try to get money and steal personal information.
The thieves are using sophisticated deceptive tactics that make it appear to Caller ID systems that the scam call is coming from the utility when it is not.

Scammers are calling customers claiming to be from their local electric company. They tell the potential victim they have not paid for their service and are in jeopardy of being disconnected. In some cases, the callers say customers need to pay a special meter charge. The scam caller advises the customer to make a payment either immediately on the phone, by calling a special number or by going to a local store to purchase a pre-paid card and calling back with the code.
Utility customers should be aware this is not a legitimate request and Rocky Mountain Power does not follow this practice.

In another scam, fraudulent emails are being sent to customers claiming their utility bill is ready. If the recipient clicks on the link to view the bill, it takes them to a compromised website that harbors malware.

These scammers are in no way associated with our company and we take very seriously any efforts to defraud our customers, especially using our company's good customer relationships and reputation.

We offer the following suggestions to help ensure customers and their personal information, bank accounts and sense of security are kept safe:

Please be aware of our practices, identification and methods of contacting customers:
Rocky Mountain Power employees wear identification badges when performing work in the field. If the ID is not visible and you don't see any other Rocky Mountain Power logo, you should ask the individual to show you their badge.]

All company vehicles are marked with the company's name or logo. If you are approached by someone claiming to be from Rocky Mountain Power, check to see if their vehicle is clearly marked and/or ask for ID.

Our employees will not demand immediate payment for damaged or broken electrical equipment or any other service. Be suspicious of anyone who approaches you and asks for on-the-spot payment.

If we contact a customer, the company representative will always have the customer's account number.

If you believe you have been contacted by a scammer, note any information – caller ID, phone numbers, addresses for making payments, etc. – and report it to your local police and the Federal Trade Commission at 877-FTC-HELP.

If you are in doubt that the caller or visitor represents Rocky Mountain Power, please call us at 1-888-221-7070 to confirm the person's identity and role with the company before proceeding with any transaction.

If you are not sure about the authenticity of a billing or other email that appears to come from us, you can log in to your account directly at rockymountainpower.net to review your statement. You can also call us anytime toll free at 1-888-221-7070.