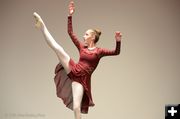 Kick

Photo by Arnold Brokling.


Rendezvous Dance & Cheer Perform SHOWTIME
by Terry Allen
May 22, 2016

On Saturday, May 21st at 6pm Rendezvous Dance & Cheer (RDC) held its 1st Annual Spring Recital at the Pinedale High School auditorium.

Thirty-seven students participated in the performance. Under the direction of owner, director and instructor, Frances Irene Cuprill, students spend time learning technique through fun games and short choreographies.

Students didn't start learning their recital routines until March which meant, including their dress rehearsal, these kids had only 12 weeks, or more specifically 12 hours, to learn their pieces before performing on stage for an audience.

"They worked really hard," said Frances Irene. "I couldn't be prouder of each one of them."

It was reported that many in the nearly full house had to wipe tears from their eyes.

Photos by Arnold Brokling.




Related Links