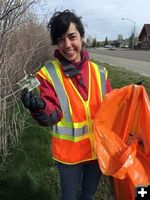 Hayley Ryckman

Hayley found $20 along highway toward Burger Barn. Photo by Tim Ruland.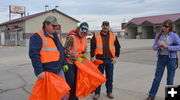 American Legion Crew

Joy of the local papers interviews Brandon, Sue and Preston. Photo by Terry Allen.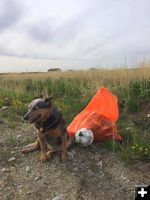 Zeke Brokling

Zeke found a soccer ball out by the elementary school. Photo by Arnold Brokling.


Pinedale Community Cleanup Day 2016
by Terry Allen
May 22, 2016

It must take a special love of community to roll out of the sack on a storm-threatening Saturday morning and show up at 8:00 AM to pick up soggy cigarette butts all over town. But, that is what 125 smiling, unpaid citizen volunteers and friends did this past Saturday.

Spanish exchange student, Nuria Gracia was wearing a ten year old t-shirt from the very first Community Cleanup Day that the Steve and Ana Cuprill-Smith family attended. "In Spain we pay people to pick up trash every day," said Nuria. "But here, it is so clean you only have to clean it one day a year."

The American Legion team was busy filling multiple bags and the most unusual things they found were a tow hook and a sprinkler head.

Larry Zuckerman who works at BLM was out at the Duck Creek overlook. "I like picking up at this place because I like to fish Duck Creek," he said.

Deanna Ballue and Olga Bretado who were part of the Episcopal Church team found a banner and some streamers.

Arnie and Diana Brokling were out with their dog Zeke and Zeke was pleased with himself for finding a big soccer ball. "We found a lot of construction debris out by the elementary school," said Arnie. "But we picked up a ton of Munchables and candy wrappers downwind, east of the school."

The McGuire family was out along upper Jackson for their first time doing the cleanup. "We are finding lots of bags of dirty water," said Marie. "We also found a lawn mower blade and lots of butts."

Hayley and Tim chose the highway near Burger Barn where she found $20. "I got my hair stuck in the barbed wire fence as I was reaching thru for it. I was stuck for about three minutes and Tim had to help me," she said. "We found a lot of butts and food things that things were in at one time," said Tim. Suddenly Hayley spotted some trash over by the barbed wire and exclaimed, "Tim, go get that."

Trey Wilkerson found a golf ball but it was too old to read.

The Kelly family picking up for the Tegler Team found a couch, lot's of beer bottles, a trash can lid, some undies and a flip flop.

Jay and Maggie Mahanovich found a cool old bottle made in Rock Springs. They also saw a weasel, some rabbits and some gophers. "The normal stuff," said Jay.

Carson Stinson found a Fireball bottle and two Smirnoff bottles across from the clinic.

Emily and Shea Paravicini found a fishing pole, a whole string of unopened Otter Pops and 40 vodka bottle's across from the clinic.

As I stopped for a photo at Dave Stephens auction, I heard him say he had a box with an anti-freeze tester and a rat trap in it for sale.

Back at Rendezvous for lunch I took a picture of Iyanna and her lunch. Sisters Jazlin and Braylee stood on both sides of me and helped me spell everyone's names.

Trash Bingo winners were: 1. American Legion. 2. Finn. 3. Paravicini Family.

So, if you happen to see piles of trash on street corners and big orange bags scattered like jelly beans all over town, now you know who to thank. Thank ordinary citizens. The highest ranking people in town.

Photos by Terry Allen, Tim Ruland, Arnie Brokling.