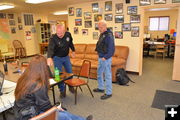 Incident Command

Public Information Officer, Sheriff and Incident Commander review the latest information. Photos by Terry Allen, Pinedale Online!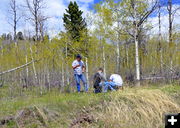 D.C.I.

Bagging evidence and recording location. They agreed to photo if two of them could turn their faces away.


After the Successful Manhunt
by Terry Allen
May 22, 2016

May 18, 2016:
At the Incident Command Center set up at the Tip Top Search & Rescue building in Pinedale, Sgt. Katherine Petersen, the Sublette County Sheriff Officeís Public Information Officer, allowed me into the Command Center to take a news photo as long as I agreed to crop out portions that had to remain confidential. Sgt. Petersen stated the search for the truck and weapons was concentrated in the Half Moon Lake area.

"Yesterday we concluded the visual inspection around the boat ramp areas of both Fremont and Half Moon Lakes," she said. "DCI (Department of Criminal Investigation) have several teams on foot in the Half Moon area looking for weapons. Finding the weapons is our top priority. There is presently no word on the gauge of weapons."

I took a drive up to Half Moon Lake and drove down the dirt road toward the lodge. I came upon a team of men who looked more like civilians. Some had more beard and longer hair than normal regulation. The clothes also looked very casual. They were bagging what looked like common roadside trash while one of them recorded what it was and the location on a recording device. I asked to take their picture and they were agreeable as long as a couple of them could turn their back to the camera. They referred all questions to DCI-Cheyenne. I asked if it was okay to drive to the boat dock for a photo and to the trail head for a photo and they agreed.

As I was coming back from the boat dock, Sgt. Petersen arrived and stated that with so many media arriving, it would be best if they closed access to eliminate the possibility of our presence compromising evidence collection.

I drove back to the Incident Command Center and spoke with Sgt. Petersen further. "There is no word on the gauge of the weapons we are looking for yet," Petersen said. "Utah Department of Public Safety is interested in sending their own equipment including a helicopter, a sonar boat and a dive team. At this point we donít know if there is a connection between the missing truck and the suspects."

At this point, I drove to all of the areas mentioned by law enforcement staff and took notes and photos.

At the end of the day I went back to Incident Command and spoke with Incident Commander, Colonel Mark Farrell.

"DCI is called anytime there is a death," he said. Right now, we donít have any evidence linking the two crimes. We have two specific goals at this point. 1. Finding the truck and a link to this area. 2. Finding the four weapons that were reported to be in Derekís possession. In all likelihood though, weíll never find the weapons. Some of the agencies involved in these searches are, The Lincoln County Sheriffís Office, The Centerville Police Department, The Utah Department of Public Safety, Utah Transit Authority Police, Wyoming Highway Patrol, The US Marshalís Service, The National Forest Service Law Enforcement, Bureau of Alcohol Tobacco and Firearms (ATF), The Federal Bureau of Investigations (FBI), Wyoming Division of Criminal Investigations (DCI), Sublette County Unified Fire, Sublette County EMS, Rock Springs Police Department, Green River Police Department, and the Sweetwater County Sheriffís Office."

May 19, 2016:
I arrived at the main entrance to Half Moon Lake. Way down below on the lake, the expected sonar boat from Utah had arrived and was searching in a grid pattern in the area of the boat dock. Wyoming Highway Patrol Trooper, J.B. Moeller was standing beside his vehicle just offside the pavement. "Iím just here to help with the roadblock and to make sure no one interferes," he said.

Sheriff Haskell and Sgt. Petersen arrived on the scene as did a number of Utah media vans full of cameramen, producers and commentators. I stood beside Sheriff Haskell and we spoke as he was fitted with his microphone for his interview. "We know the water is shallow and normally a truck wouldnít sink all the way," he said. "But, sometimes strange things happen. It could float out to deeper water and flip upside down. The bottom side of trucks is usually dark, so they would be hard to see from the surface." As we spoke, what looked like a civilian Beechcraft Bonanza began doing a circle around Half Moon Lake. "Yes, it is a civilian aircraft," Haskell said. "Right now, we donít see a need to block airspace."

The interview began. The producer asked the sheriff if heíd mind taking off his sunglasses, so he did, but squinted in the bright sun. Sgt. Petersen sat on the rail fence checking messages on her phone. The airplane moved about half a mile north and began a wide circle over the Kelly Park Nordic ski area.

Then the plane bank hard into a tight circle. About a minute later, Sgt. Petersenís phone rang. Coincidentally, the interview ended. Casually, Sgt. Petersen got down off the fence and thanked the news team and went to the side of the sheriff.

The sheriff then got in his vehicle rolled up his windows and got on the radio. Sgt. Petersen went to her vehicle and drove down the mountain. Trooper Moeller got into his patrol car and repositioned it on the highway leading uphill, where Kelly Park was located. I looked around at the four news teams and no one seemed to notice the activity. I walked over to Trooper Moeller asked if they had just found the truck. "I donít know," he said. "Iíve just been ordered to restrict traffic uphill."

Five or ten minutes later, vehicles loaded with men came up the dirt road out of Half Moon and roared up the mountain toward Kelly Park. A minute later, a truck pulling the sonar boat also drove up the hill. A few minutes after, a Utah DPS helicopter arrived over the Kelly Park area. I looked at Trooper Moeller and asked him if they found the truck. "Iím seeing the same things you see, and I donít know any more than you do," he said.

For a while we just baked in the sun. Eventually, the news teams began to get information from their stations and they shared it among themselves in quiet huddles. Finally, a KSL news helicopter flew into the Kelly Park air space. They hovered over one spot for quite some time. They then flew to a rocky area across from the road block. A young KSL man ran through the forest and collected the video tape. Another young KSL staff person tried to get it from him, but he dodged her and delivered it triumphantly to the van where it was uploaded and sent by satellite to Utah.

Now the word was out. KSL had put it on the air. We looked at it live on our phones. There was the truck in an Aspen grove. A tow truck roared uphill. A truck and flatbed followed. I expected they would load it quickly and weíd get the photo of the truck we all wanted.

Instead, we baked in the sun for hours. Trooper Call relieved Trooper Moeller and then Trooper Huffman relieved Trooper Call. In between, we talked hunting, fishing, high speed car chases, arrests, justice, horses, investigation procedures, bad cop stories and heroic cop stories.

Then on a ridge on the south side of Kelly Park a mile or two away, an old truck worked its way down a ridge toward us. It was an old wood cutter in an old pick up. I ran over to him as he came to the checkpoint and asked him if he was the one who spotted the truck. "Nope." Was all he said and drove on down the mountain.

3:30 PM:
All the vehicles that went up the hill started coming down the hill in a big convoy. Search and Rescue, mysterious looking men is stealthy looking vehicles, unofficial looking official vehicles, the truck pulling the sonar boat and finally, The Truck. It was almost fully covered in a tarp. It didnít slow down as it came through the checkpoint. An anonymous official said it was going into an FBI holding center.

Trooper Huffman got in his vehicle and drove back to town. The media people packed up and went back to town. I got in my truck and drove up the mountain to Kelly Park. No one was on guard. I know Kelly Park and I felt I had a good idea where that KSL helicopter had been hovering. The heavy tracks in the dirt and muddy road helped. I put it into four-wheel drive and drove right to the spot where all the tracks ended. I got out and took a few photos. I stayed on the wheel and traffic areas. I did no personal exploration. I stood in the aspens and a Wyoming Sage Grouse joined me and we looked at each other. I thought about the guys who had ditched the truck. The father had walked out and gave himself up and the son walked out and gave himself up about a day later.

I went down to the Incident Command and spoke with Wes Johnston. "No, we havenít found the weapons yet," he said. I asked him if the suspects were talking. "No," he said. "They arenít helping as much as weíd like. They have not been very forthcoming. They have lawyered up and we can only speak to them in the presence of their attorneys," he said. At that point, I asked him if he had turned the heat down in their cell to help persuade them. "Look," he said sternly. "We have something in this country called the Constitution. I just hate all that Hollywood kind of stuff. We donít like it when a few cops act badly. It reflects poorly on the whole profession. No, we donít mess with their heat. We just feed them."

As of this moment, the weapons have not been found. The suspects are in jail in Utah.

Sgt. Katherine Petersen: "We do not have an active search for weapons because it would be a bit like searching for a needle in a haystack at this point. Anyone who comes across anything suspicious in those areas around Fremont, Half Moon, or the CCC ponds are asked to call LE immediately and not touch anything. Thatís all we have for now. Since FBI, DCI and Lincoln County took over, weíre pretty much back to business as usual."

Special note:
I am a big advocate of the publicís right to know. However, I think the public would rather have a successful investigation than to risk not getting a conviction because me or someone else had a slip of the tongue. I have left out some names, places and conversations that took place. Once in a while I donít know if something is off the record or not, so if I think it better not to say something, Iím not going to. I stay a respectful distance away from officers when they are on the phone or having conversations with other officers. First, because it is just the right thing to do and second, because I think it helps the relationship. Iím not going to mention the owner of the plane. Iím not going to pin point the location of the truck just in case investigators need to go back for a further search. I appreciate the kindness and the access given to me by all the agencies I had contact with.