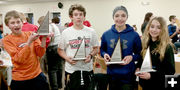 Mathcounts

Pinedale Middle School Mathcounts team (L to R): Liam Fallon, Mitchell Pape, Preslie Simkins, and Zoe Griffin. Photo courtesy of Dahlia Griffin.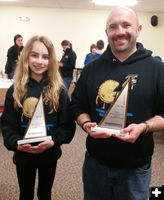 With trophys

Zoe Griffin and Mathcounts Coach Steve Miller. Photo courtesy Dahlia Griffin.

Pinedale Matchcounts team places 2nd
March 11, 2016
The Pinedale Middle School Mathcounts team qualified and participated in the state competition at the University of Wyoming in Laramie on Saturday, March 5, 2016. The team of Mitchell Pape, Liam Fallon, Zoe Griffin, and Preslie Simkins, after a strong team round, placed 2nd overall behind the eventual winner, McCormick Middle School out of Cheyenne. Mitchell placed 10th overall individually while Zoe placed 18th. The mathletes practice during academic support time, after school, and mostly on their own time. The team is coached by Steve Miller, Sublette County School District #1 Curriculum, Data, & Assessment Coordinator.

Related Links
www.sub1.org - Sublette County School District #1