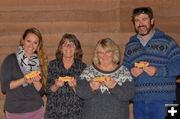 CURED Fish

(L to R) CURED members Kendall Brunette, Dottie Bentley, Elaine Crumpley and guest aquatic biologist Carlin Girard. Photo by Terry Allen.


Fish Talk and Food Presented by CURED
by Terry Allen
March 19, 2016

Friday evening, March 18 at the Pinedale Library, CURED hosted fisheries biologist, Carlin Girard who presented portions of his recently completed masterís thesis, on Water quality, aquatic habitat, and native fish in streams along the Wyoming Range.

Girard prefers the title Aquatic Ecologist because he is interested in more than fish. "Iím interested in using case study of long-term energy development to inform future development," he said. "Iím interested in how we can do better, more efficiently."

Mr. Girard presented a PowerPoint slide show that showed contrasting images of healthy habitat with those of unhealthy habitat. The unhealthy habitat images were in very close proximity to industrial oil/gas installations and some of ranching grazing. The fish count charts he presented also contrasted dramatically between the two different habitats. Unhealthy habitat resulted in lower fish numbers across the three fish species studied.

"As I worked on my field studies I met with a many ranchers who were also concerned with having a healthy aquatic habitat," said Girard. "They asked how they could help, what they could do to improve conditions. That is a very positive sign."

Ultimately, he said. Restoration and preservation of healthy aquatic species habitat will come about thru good relationships with industry and agriculture. The biggest challenge he sees in maintaining those relationships is due to loss of personnel due to low biologist wages. "The turnover is debilitating," he said. "Unless wages are raised, we will continue to turn over personnel and they will have to start from scratch building relationships with the local community who are waiting to work with us."

CURED members provided a tremendous meal of sausage chili, cucumber salad, herb pilaf, several boxes of good wine and an ice chest full of premium beer to wash it all down. Coffee and amazing desserts were provided, including gingerbread fish.