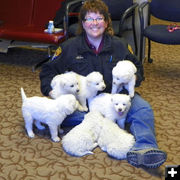 Pups

Sweetwater County Animal Control Officer Chris Thomas with livestock guardian dog pups. Photo courtesy Sublette County Sheriff's Office.


Sweetwater Sheriff's Office issues advisory about working sheep dogs
Please don't pick them up thinking they are 'lost'
by Sweetwater County Sheriff's Office
February 5, 2016

The Sweetwater County Sheriff's Office (Rock Springs) issued an advisory Thursday concerning working sheep dogs.

Sheriff Mike Lowell said several border collies and Australian shepherd dogs were recently picked up near the Tata Chemicals Plant west of Green River. They were reported by people who were concerned about their well-being in the recent harsh weather.

These particular dogs were not abandoned or dumped, however; they were working sheep dogs that belonged to a sheep camp about 3/4s of a mile away.

County Animal Control Officer Chris Thomas explained the problem. "People pick these dogs up and bring them in with the best of intentions, but once they've been removed from their working environment for any amount of time, they often lose their working skills. Often, too, these sheepherder's dogs are females that may have litters of pups hidden somewhere."

One incident two years ago was a typical example. A Rock Springs woman came upon seven Great Pyrenees puppies in the bottom of a gulch in a remote area south of the city and took them home, fearing that they had been abandoned. (Great Pyrenees are a favorite breed of working sheep dog.)

The pups were reported to the Sheriff's Office and it was determined that the pups' mother was from one of the sheep camps operating in the area. County animal control officers worked with Eddie Lopez, the county range officer, to reunite them with their mother. (The pups are pictured here with ACO Thomas.)

Officials ask that people encountering large dogs in remote areas not pick them up or feed them, but note their location and notify the Sheriff's Office. County animal control officers can then go to the scene, assess the situation, and take appropriate action.
_____________________________________________

Editor's note: There are also working livestock guardian dogs in Sublette County. In November 2011, Cat Urbigkit experienced the same kind of incident when her now-famous sheep dog, 'Rena' went missing while tending her herd east of Marbleton. Someone had picked her up thinking she was wandering outside lost. Rena tends to sheep herds at the Urbigkit's Paradise Sheep Company, protecting them from predators. Fortunately, Rena was returned home safe and sound several days later. See the links below to read that story.




Related Links
Rena is missing - (Cat Urbigkit's livestock guardian dog) 2011