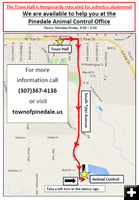 Map to Town Shop

Direction map to the Pinedale Town Shop and Animal Control building.


Pinedale Town Hall staff moves to temporary offices at Town Shop
by Town of Pinedale
February 3, 2016

The offices and employees of Pinedale Town Hall have been moved to the Town Shop and Animal Control at 61 S County Road 123. Town Hall, 210 W. Pine Street, is closed completely for abatement of asbestos, until further notice. All Town business will be conducted from the Shop or Animal Control. Phone and fax numbers will remain the same. Town Council meetings, Board meetings, and Commission meetings will be held at the Sublette County Library at their normally scheduled times. For directions or information please call, 307-367-4136.