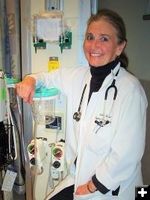 Leslie Hagenstein

Leslie Hagenstein, DNP, APRN, FNP-BC. Photo courtesy Sublette County Rural Health Care District.


New providers welcomed to Sublette County
by Sublette County Rural Health Care District
February 4, 2016

February 4, 2016: The Sublette County Rural Health Care District is pleased to announce two new additions to its healthcare team and the community! Keri Hull, ACNP and Michelle Chavez, FNP are both taking on new patients in your local clinics. Keri, who is dually certified as an acute care and family nurse practitioner, and Michelle, a family nurse practitioner, each bring a unique set of medical skills and experience to Sublette County, as well as a passion for rural medicine.

Keri, who joined the District last October, spent the last 6 years in Alaska working as a critical care and ICU nurse in Anchorage and Sitka. She says, "In rural medicine, weather and time create huge challenges and you are not always able to provide the care that is needed. But I enjoy the trouble-shooting and problem-solving that comes with not having everything at my fingertips." Keri has brought her husband and baby girl along with her to Sublette County and they are excited to spend some time enjoying the Winds and Wyoming Ranges. Keri is currently seeing patients at the Pinedale Medical Clinic.

Michelle is the newest addition to the Marbleton-Big Piney Clinic. After 30 years working as an RN, she received her Nurse Practitioner license in 2013. She, too, has experience working in the rural setting and brings with her the critical ER and trauma experience that are necessary in Sublette County. "I love rural medicine, especially pediatrics. And I really enjoy the mountains and seeing all the wildlife here". Michelle moved here with her husband and 2 dogs and is currently working towards getting her private pilotís license.

The addition of Keri and Michelle are consistent with the Districtís mission to provide accessible, patient-focused care. With the growing complexity of health care and the diminishing availability of primary care physicians, the role of the nurse practitioner in primary care has soared. Nurse practitioners are registered nurses with advanced training. With the exception of surgery, nurse practitioners are allowed under state regulations to provide many of the same services performed by physicians. These services include diagnosing and treating health problems, either routinely, urgently or emergently; performing well-child and adult care checkups; prescribing medications; and teaching health promotion and disease prevention to patients. Additionally, Keri and Michelle both meet the Districtís strict provider requirements of having ER experience and being certified in Advanced Cardiac Life Support, Pediatric Life Support, Advanced Trauma Life Support and Management of Difficult Airway. These certifications are rigorous and require ongoing recertification. All of which are not typically required in non-rural practices.

"Family nurse practitioners have a long history of providing exceptional patient care to the residents of Sublette County. The Health District has utilized numerous nurse practitioners and physician assistants in the past including RCHD Board of Trustee Kris Roork and Leslie Hagenstein, DNP, APRN, FNP-BC. Leslie has been and continues to be an integral member of our medical provider team providing clinic and emergency room care at both the Marbleton-Big Piney Clinic and Pinedale Clinic. She along with others have paved the way for the RHCD to expand the role of the NP especially in light of the Districtís effort to decrease expenditures while maintaining exceptional patient care. The expense of salary is nearly cut in half with a NP. Average salary ranges for a nurse practitioner in rural areas with a call commitment ranges from $92,000- $124,000 while physician salaries range from $205,000 to $270,000.00. It is not the intent of the RHCD to replace our physicians but to move to a complement of the two that fits both our community needs and the budget. This will occur by attrition. Another factor playing into the transition to Nurse Practitioners is the Districtís strategic plan to transition the clinics to Provider Based Rural Health Clinics to benefit from the cost based reimbursement. One of the criteria is utilization of mid-level providers 50% of the time the clinic is open," states Malenda Hoelscher, Health Care Administrator.

While the District is thrilled to welcome Keri and Michelle, they are also sad to announce that Dr. Debbie Brackett is no longer seeing patients at the Marbleton-Big Piney Clinic. Dr. Brackett has transitioned her patients to other providers at the clinic as of Monday, February 1st to assure seamless transition of care including outstanding blood work and other diagnostic tests. Additionally, the District will be saying "Aloha!" to Dr. Shannon Evans in April. Dr. Evans has been a highly-regarded member of the Marbleton-Big Piney Clinic team since August 2011. She will be trading in her snow boots for flip flops as she heads to Hawaii to start the next chapter in her career. The District would like to thank Dr. Brackett and Dr. Evans for their service and dedication to their patients in Sublette County and wish them well as they move forward.

With the vacancy being left by Dr. Evans, the District has retained the services of Merritt Hawkins to recruit a family practice physician. Merritt Hawkins is the nationís leading permanent physician and allied health care professional placement service. They have successfully recruited numerous providers to Sublette County in the past including Dr Evans, Michelle Chavez, FNP, Dr. Dave Kappenman and Dr. Eliz Albritton.
__________________________________________

Pinedale Online Editorís note: In response to our inquiry about the status of Dr. Shannon Evans, Dr. Debbie Brackett and Dr. David Burnett at the Marbleton Clinic, the SCRHCD answered: "Dr. Evans is moving to Hawaii. She submitted her resignation on December 22, 2015. We are currently recruiting a physician to take her place. Dr. Brackett has opted not to renew her contract and is no longer seeing patients. The care of her patients is being transferred to Michelle Chavez, FNP. Dr. Burnett is currently negotiating his contract with the RHCD board." Anyone with questions or concerns is always welcome to contact the Sublette County Rural Health Care District, 307-276-4451, or come to one of their regular monthly Board meetings, which alternate between Pinedale and Marbleton. The next board meeting will be on Wednesday, February 17, 2016 at 6:00PM at the Marbleton Town Hall. www.sublettehealthcare.com.




Related Links