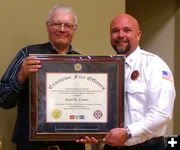 Executive Fire Officer Program

(L to R): Sublette County Commissioner Joel Bousman with Sublette County Unified Fire Chief, Shad Cooper. Photo courtesy Sublette County Unified Fire.


Fire Chief Cooper completes Executive Fire Officer Program
by Sublette County Unified Fire
February 4, 2016

PINEDALE, WY - The Sublette County Unified Fire Chief, Shad Cooper recently completed the Executive Fire Officer Program through the National Fire Academy in Emmitsburg, MD. The Executive Fire Officer Program is a professional development series of ACE accredited, graduate degree courses taken over a four-year period. The courses and accompanying applied research projects provide senior fire officials with a broad perspective on various facets of fire and emergency services administration. The executive level curriculum focuses on how to exercise leadership when dealing with difficult or unique problems within communities. The curriculum prepares fire service leaders to transform their organizations from being reactive to proactive in nature.

EFOP graduates are acknowledged as having demonstrated a commitment to reduce the nationís loss of life and property from fire and related emergencies by pursuing professional development through completion of the National Fire Academy sponsored courses. Each of the four courses require writing extensive written research projects with an emphasis on leadership development, community risk reduction, and emergency incident prevention. It is also important the students must apply what they have learned in the classroom to existing situations in their own community. Each project is peer reviewed, evaluated, and published through a formal process. The Executive Fire Officer Program takes over 2,000 hours of self-study and formal classroom training to complete.

Cooper explained, "It was truly a challenging and rewarding experience to complete this program. The EFO program is the preeminent executive level fire training program in the United States. During my time in the program, I was able to meet and study with Fire Chiefs from large metropolitan cities, small communities, and even some Fire Chiefs from other countries."