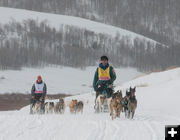 Sled Dog Race

Big Piney/Marbleton Stage. Photo courtesy EUKANUBA Stage Stop Race

Buddy Streeper wins 2016 EUKANUBA Stage Stop
Sled Dog Race
February 7, 2016
Saturday, February 6, 2016: Dan Carter, EUKANUBA Stage Stop Race Director and the Pedigreeฎ 8-Dog Classic Race Director, announced the winners of the Uinta County/Bridger Valley Wyoming stage.

Winning the 42 mile eighth stage of the EUKANUBA Stage Stop Race is Buddy Streeper of Ft. Nelson, BC, Canada with an elapsed time of 2:54:04. With that win, Mr. Streeper is the first place winner of this year's Eukanuba Stage Stop Race with an Overall time of 24:34:30. Congratulations, Buddy!

Final Positions for all 13 competitors:
#1 — Buddy Streeper — Overall Time 24:34:30.
#2 — Alex Stegmann — Overall Time 25:05:33.
#3 — JR Anderson — Overall Time 25:20:26.
#4 — Bruce Magnusson — Overall Time 25:31:00.
#5 — Jerry Bath — Overall Time 25:33:10.
#6 — Jeff Conn — Overall Time 26:24:23.
#7 — Gerry Willomitzer — Overall Time 27:11:03.
#8 — Al Borak — Overall Time 27:32:29.
#9 — Dennis Laboda — Overall Time 27:49:36.
#10 — Emilie Entrikin — Overall Time 27:51:16.
#11 — Jerry Scordis — Overall Time 29:14:11.
#12 — Austin Forney — Overall Time 33:27:42.
#13 — Chris Adkins — Overall Time 35:09:51.