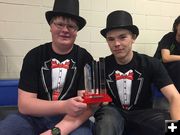 4-H Robotics Team

(L to R) Nathan Lee and Thomas Mack with Innovate award. Photo courtesy Sublette 4-H.


4-H First Tech Robotics Team brings home trophy
by Sublette 4-H
February 21, 2016

The Sublette 4-H Team brought home the First Place Engineering Design Trophy from the 8th Annual First Tech Challenge Robotics Contest in Casper, Wyoming.

Team "We Donít Bounce Well" made up of Thomas Mack and Nathan Lee of Pinedale High School competed at the annual FTC tournament Feb 13th in Casper. The team was sponsored by grants from Linn Energy and Sublette BOCES. The team began working on their robot design and this yearís challenge early this fall. This is the teamís second year competing, although they had to learn a new programming platform this year.

The team was awarded the Rockwell Collins Innovate Award for their engineering design with an impressive telescoping attachment complete with a 3D printed part designed by Nathan Lee. The team placed 6th overall in robot performance and was selected by the 1st place team to be their alliance partner in the championship match. The telescoping attachment, unique to team We Donít Bounce Well, made them a desired partner as their design showed promise and success at the high point challenge. Their performance in the championship matches put them in 4th place overall. The team was mentored by Josh Davis.

FTC is designed for youth grades 7-12 to compete head-to-head using a sports model. Teams are responsible for designing, building and programming their robots to compete in an alliance format against each other. Teams, including coaches, mentors and volunteers, are required to develop strategies and build robots based on sound engineering principles. Through the FTC program, students get to design, build and program robots; apply real-world math and science concepts; develop problem solving, organizational and team building skills; compete and cooperate in alliance and tournaments and compete in a spot in the world championships.