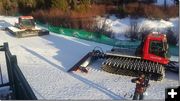 Groomers

Photo courtesy White Pine Resort.


White Pine Snow and Grooming Update - 1/10/16
by White Pine Resort
January 10, 2016

Snow in last 24 hours: nil

Forecast for Saturday: Sunny day promised with a 23F high

Overall conditions: Great conditions for winter fun – skiing, snowboarding and tubing. Cold conditions means great snow quality!!!

Activities: Lifts open 9am-4pm. Sally's tow (Tubing) open 11am -5pm. Sunday special: $10 tubing ticket with every day lift ticket or season pass.

LIFTS:
Little Spirit, RUNNING
Great Spirit, RUNNING
Sally's Tow (tubing), Open 11am-5pm

RUNS:
Lynx, Green, Groomed
Porcupine, Green, Groomed
Quail, Green, Groomed
Coyote, Green, Groomed
Competition, Green, Groomed

Bonneville, Blue, Groomed
Wind River, Blue, Groomed
Upper/Lower Fremont, Blue, Groomed
Lander Cut off, Blue, Groomed
Great Basin, Blue, Groomed
Sunny's, Blue, Packed Powder
Sweetwater Gap, Blue, Groomed
Lower Pipestone, Blue, Packed Powder
Washakie Traverse, Blue, Groomed

Temple, Black, Packed Powder
Steve's, Black, Packed Powder
Upper Sky Pilot, Black, Packed Powder
Lower Sky Pilot, Black, Packed Powder
Pipestone, Black, Packed Powder
Warbonnet, Black, Packed Powder
White Rock, Black, CLOSED
Lost Eagle, Black, CLOSED

TERRAIN PARK: Open

White Pine Lodge
Rental Shop: Open, get your skis/snowboards waxed at White Pine for $15 or $20 for a premium wax.
Ski School: Avoid disappointment. Call ahead and book 307 367 6606.
90 minute lesson – Private $85.00, Group $35.00.
Beginner Package including equipment rental, lift ticket and 90 minute lesson from $100.00.
Grill: Open from 8:30am til 5pm
Bar: Open from noon til 7pm

For further information on skiing and lodging packages visit www.whitepineski.com.