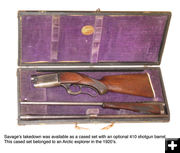 Takedown rifle

Savage's takedown was available as a cased set with an optional 410 shotgun barrel.


New book about Savage 99 Rifle
By author David Royal
by Dawn Ballou, Pinedale Online!
January 7, 2016

Boulder resident, David Royal is pleased to announce the upcoming release of his new book on the Savage Model 99 Rifle, "A Collector's Guide to the Savage 99 Rifle and its Predecessors the Models 1895 and 1899." While there are many high quality books about almost every known firearm in the last 30 or 40 years, the Savage Model 99 has been largely overlooked. David Royals new book covers the rifles until they were discontinued in 2003. The book will come off the press and be available on March 28, 2016.

David Royal has been a fan of this rifle since the age of thirteen when he got his first one, a 99EG in 300 Savage, which he hunted with during his teenage years. He moved to Boulder, Wyoming in 2005 and got seriously into collecting Savage Model 99s. His enthusiasm for the rifle led him to write this book. It is the culmination of his life-long passion about this firearm.

This hard cover book has 176 pages and 260 color and black & white photos. It is 8-1/2" x 11" in size. It covers the Savage lever action centerfire rifle from prototypes to the end of production. It includes details of all models produced and provides comparisons between the different models. It also gives never-published before information and dispels myths about Savage Models 1895, 1899 and 99. This is the first book to cover every aspect of the Savage 99 family of centerfire rifles from the prototypes to the last rifle produced, including Savage's only production military rifle, the Montreal Home Guard musket from WWI. Photographs in the book are by Charlotte Royal and it is edited by Rick Edmonds.

While doing research for the book, Royal visited many Savage collectors around the country photographing their collections. A great deal of information was gathered during these visits to make the book an encyclopedia of knowledge about the genre. It covers the various engraved rifles in some detail as well as many little known facts about the rifle and its evolution. It also dispels some incorrect myths about the rifle and its creator Arthur Savage.

In addition, the book contains appendices that show all of the barrel addresses used by Savage during the 107-year production run of the 99, the breakdown of serial numbers by year produced, and a chart showing the calibers available in each model. It ends with a number of vintage black and white photos showing people and their Savage rifles collected by Gary Groshel.

The new book will be available March 28, 2016 and pre-orders are being take now on schifferbooks.com, amazon.com and barnesandnoble.com. The price is $59.99. For a signed and numbered copy, contact David Royal at wyomingsavage1895@gmail.com. Upcoming book signings to be announced.

David Royal will be at the Utah gun Collector's Associan Gun Show January 9 & 10 at the Weber County Fairgrounds in Ogden where people can meet the author and sign up to reserve copies of his book. The show is from 9AM to 5PM on Saturday and 9AM to 4PM on Sunday.

Click here for a printable copy of more information about the book and the order form: "A Collector's Guide to the Savage 99 Rifle and its Predecessors the Models 1895 and 1899" by David Royal.





Related Links
www.davidroyalsavage99.com - A Collector's Guide to the Savage 99 Rifle and its Predecessors, the Model 1895 and 1899, by David Royal