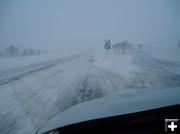 Interstate 80 in Wyoming

Photo of I-80 West conditions taken Wednesday morning, Dec, 16, 2015. Photo courtesy Wyoming Department of Transportation.


Winter Weather closes Interstate 80 in Wyoming
by Pinedale Online!
December 16, 2015

Wednesday, Dec. 16, 2015, 9:30AM update: Interstate 80 was closed across Wyoming on Wednesday morning, Dec. 16th, due to winter conditions that reduced visibility to near whiteout conditions. Other roads in central and eastern Wyoming were closed for periods of time on Tuesday and Wednesday due to winter storm conditions. The Wyoming Department of Transportation was working to open 287 south of Laramie sometime Wednesday morning, as weather allowed. Maintenance crews were working on a couple of the larger drifts with the rotary plow to try to reopen I-80 between Laramie and Cheyenne. Wind speeds were blowing at 42 mph east bound from Laramie. On I-80 between Laramie and Rawlins wind speeds of 48 mph were reported in the Arlington/ Elk Mountain area were creating dangerous visibility and drifting issues. As of the time of this report on Wednesday at 9:30AM, WYDOT had no anticipated opening time for this road section. WYDOT reported that most road surfaces were very slick with blowing/drifting snow.

For Wyoming road condition updates call 511 or 1-888-996-7623 or go to www.wyoroad.info. Click here for more weather, road condition and area webcam links.