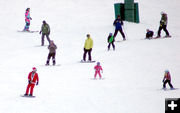 Skiing with Santa

3-year-old Sophie White kept close to Santa as they boarded down the hill from Little Spirit on Christmas Eve. Photo courtesy White Pine Resort.


White Pine Snow and Grooming Update 12/25/15 – Christmas Day
by White Pine Resort
December 24, 2015

Snow Accumulation last 24 hours: 3"

Forecast for Friday: Thursday evening snowing at White Pine. Christmas Day - A slight chance of snow before noon. Cloudy, with a high near 15.Northeast wind 6 to 13 mph.

Overall conditions: Come up and enjoy the great conditions

Activities: Lifts open Christmas Day from 9am-4pm. All White Pine services open Christmas Day
Catch the Lions' Bus to White Pine from Saturday. Cost $5.00 each way. Open to all. Call or Text reservations to 307-690-1764.

WHITE PINE OPEN DAILY FROM THURSDAY DEC 17 TO SUN JAN 3 INCLUDING CHRISTMAS DAY

LIFTS
Little Spirit RUNNING
Great Spirit RUNNING
Tubing hill – Sally's Lift Opening Sunday

RUNS
Lynx, Green, Groomed
Porcupine, Green, Groomed
Quail, Green, Groomed
Coyote, Green, Groomed
Competition, Green, Groomed

Bonneville, Blue, Groomed
Wind River, Blue, Groomed
Upper/Lower Fremont, Blue, Groomed
Lander Cut off, Blue, Groomed
Lower Sky Pilot, Blue, Packed Powder
Sunny's, Blue, Groomed
Sweetwater Gap, Blue, Groomed
Washakie Traverse, Blue, Groomed

Temple, Black, Packed Powder
Steve's, Black, Packed Powder
Upper Sky Pilot, Black, Groomed
Steve's, Black, Packed Powder
Pipestone, Black, Packed Powder
Warbonnet, Black, Groomed
Pipestone, Black, Groomed
White Rock, Black, CLOSED
Lost Eagle, Black, CLOSED

TERRAIN PARK: Open

White Pine Lodge
Rental shop: Open, get your skis/snowboards waxed at White Pine for $10 or $20 for a premium wax
Ski School: Avoid disappointment. Call ahead and book 307-367-6606.
90 minute lesson – Private $85.00, Group $35.00. Private 90 minute Lesson with Max Lundberg $125.00 (legendary ski instructor with 40+ years ski school experience and former Vice President of Professional Ski Instructors of America PSIA)
Grill: Open from 8:30am til 5pm
Bar: Open from noon til 7pm

For further information on skiing and lodging packages visit www.whitepineski.com.