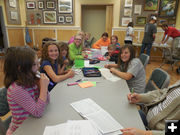 Treats For Troops

4-H kids and volunteers packaging cookies. Photo courtesy Sublette 4-H.


Treats for Troops a success
by William Shafer, Helping Hands 4-H Club
December 16, 2015

Sublette County 4-H would like to thank all those who helped with our annual Treats for Troops this year. We would like to thank everyone who gave us addresses, donated cookies, or donated to the shipping costs. We really appreciate the support that we have received from the community to help us do this over the last several years. In this year alone we had over $700 donated to the shipping costs. This program wouldn't survive without the community support that we have had over the last several years. Thank you!

This year we set a new record for the number of cookies sent. In fact, this year we sent around 316 dozen cookies in 53 large and 24 medium boxes to the troops. Thank you very much for the support and encouragement. I know that the troops really appreciate it.

Also, Sublette County won the 2nd annual Cookie Wars competition. Cookie Wars is an opportunity for all the counties in Wyoming to compete and see which one can send the troops the highest number of dozens of cookies. Sublette County's 316 dozen took first place this year. The other county that participated shipped 147 dozen cookies.

Thank you to all who helped with the program this year. We are looking forward to another great year next year! Merry Christmas and a happy New Year to all!