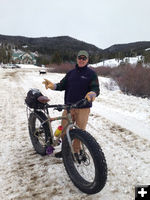 Todd Adams Fatbike

Weekend visitor, Todd Adams from Laramie, brought his fat bike to White Pine and after riding up to Elkhart Park reported "it's fantastic riding here." The tires on Todd's bike measured 5" across with a meaty tread, well suited to the conditions. Photo courtesy White Pine Ski Resort.


Ski and Bike at White Pine Dec. 13
by White Pine Ski Resort
December 10, 2015

After a few turns on Sunday, you are invited to try out a Fatbike. Salsa Cycles has teamed up with Bike and Trike from Rock Springs and will have 10 demo Fatbikes available for anyone interested in a test ride.

The demonstration will be set up in the car park at White Pine from 9am to 2pm. After familiarizing on the hard pack, the more adventurous will be encouraged to ride on the snow and begin to experience some of the features the bikes have to offer. USFS prohibit use of Fatbikes on the downhill ski runs.

Salsa was one of the pioneers in the sport and developed a bike to compete in the Idabike (which follows the same route as the well known dog sled Iditarod). To obtain extreme traction for adventure riding, manufacturers increased the width of the tire to almost 5" with an optimal tire pressure of 10psi (compared with 30-40psi on a mountain bike). Best winter tires provide increased tread depth up to 1/4" with studs as a option.

Also beefed up is the suspension on the front forks to provide for a smoother ride. Come out and try the Salsa Cycles "king" in Fatbikes the MUKLUK 7, which their website claim is the exploration Fatbike.

Bike and Trike will also be bringing up a number of fatbikes for sale.