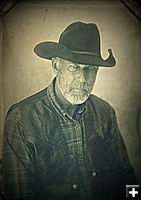 Terry Allen

Tin type photo of Terry Allen by Lindsey Ross.


Photography display by Terry Allen
At Rock Rabbit in Pinedale
by Pinedale Online!
December 6, 2015

Sunday, Dec. 6th is the last day to catch the photography display by Terry Allen at Rock Rabbit in Pinedale. The photos are of some of his photography from this past Green River Rendezvous Days in July in Pinedale.

Terry Allen has been getting more and more into photography for the past three years since moving from doing 'Up and Down the Wooden Sidewalk' at the local Pinedale Roundup newspaper with a little Kodak point and shoot camera. That gave him a great opportunity to go out on the street and talk to people. He later went freelance to experiment more with his vision of an emerging artistic style with his photography. His first formal exhibit showing of his work was a photography display at the Pinedale Library several years ago of the people and quotes from his Street Talk feature. It was well received and gave him a lot of encouragement to continue exploring his photography style. He has done many photo intensive story essays for Pinedale Online over the past several years featuring local events and people. He has since had three more photography exhibits of portraits, cowboys and Rendezvous actors. When asked what he likes about taking photos and writing homespun stories, he said, "I'm enjoying telling the stories of the people in our county."

Terry's Rendezvous display is being switched out for a new show of photography by local photographer Arnold Brokling. All of the photos are for sale and make great gift ideas for the holiday season. The photos will still be up part of the day on Sunday, Dec. 6th at Rock Rabbit. If you miss seeing the hanging photos, you can see many of the images that were on display in his Rendezvous story here: Green River Rendezvous 2015 (64 pictures)

Terry Allen can be reached at txpartisan@gmail.com for inquiries about any of his past photography, purchasing framed prints, or queries about doing photo shoots.