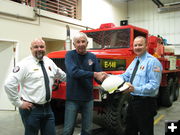 Boulder Fire

(L to R): Shad Cooper, John Blaha, Wil Gay. Photo courtesy Sublette County Unified Fire.


New Fire Battalion Chief appointed in Boulder
by Sublette County Unified Fire
December 17, 2015

Boulder, Wyoming - On Monday, December 14, 2015 during their regularly scheduled Command Staff meeting, Sublette County Unified Fire formally appointed Wil Gay as the new Battalion Chief for Battalion 4 – Boulder. Fire Chief Shad Cooper explained, "Battalion Chiefs are the primary supervisory position for each of the six fire response areas, or Battalions in the county."

Battalion Chief John Blaha recently stepped down as Battalion Chief of Boulder; however he intends to still remain active on the fire department and continue to regularly respond with Boulder in the future. Battalion Chief Blaha's legacy of 35 years of service, sacrifice, and dedication to build and improve the fire service in Sublette County and the State of Wyoming has been exemplary. His previous leadership as a Fire Chief and County Fire Warden established the foundation which Sublette County Unified Fire has been built upon. His continued participation and mentorship as a member of Sublette County Unified Fire will be invaluable in the future.

Chief Shad Cooper explained, "It was a difficult decision because we had some really capable candidates. I look forward to working with Battalion Chief Gay as we continue to strengthen and improve our organization. In addition to serving as a Battalion Chief, he will continue to perform as the Sublette County Unified Fire Training Officer as well." Cooper further explained, "Wil has already displayed exceptional leadership for us in the past. His new responsibilities as a Battalion Chief will greatly enhance the capabilities of our organization."