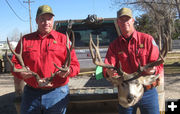 Deer poaching case solved

Cokeville Game Warden Neil Hymas (left) and Big Piney Game Warden Adam Hymas (right) hold up two poached buck mule deer taken in September. Photo courtesy Wyoming Game & Fish.


Deer poaching case solved
by Wyoming Game & Fish
December 2, 2015

Big Piney Game Warden Adam Hymas and Cokeville Game Warden Neil Hymas, son and father, respectively, recently teamed up to solve a poaching case in the Wyoming Range where mule deer are highly sought after by hunters. While enjoying a day off hunting together, the wardens observed suspicious activity, which resulted in an investigation and ultimate apprehension of the violators.

"In late September, Green River resident Christopher Galloway, 30, harvested two trophy buck mule deer on one license," said Big Piney Game Warden Adam Hymas. "Later in the day, Galloway involved a juvenile to tag the second buck mule deer. This incident occurred in deer hunt area 143, in the South Piney drainage. This hunt area is within the Wyoming Range, where deer are managed for higher buck ratios and buck quality."

Galloway was sentenced to two days in jail, loss of hunting privileges for three years, fined $920 for taking an over-limit of deer and accessory to transfer of deer license, in addition to losing both deer. The juvenile was also cited and fined $40 and will be required to give a presentation at a hunter education class.

"Regardless of the initial intention of this violation, the actions that followed, involving a juvenile, intentionally misleading game wardens, and trying to claim both deer made this violation worse," Adam Hymas said. "I applaud Judge Haws on his efforts to let the public know the importance of wildlife to the people of Sublette County and the entire state, his promotion of hunting legally and ethically, and the importance of hunting regulations."

Anyone with information on these or any wildlife violation may also call the Stop Poaching Hotline at 1-877-WGFD-TIP (1-877-943-3847). Tips may be reported to your local game warden or online at wgfd.wyo.gov. Tips may also be reported to the Green River Game and Fish Office at-1-307-875-3223 or the Pinedale Game and Fish Office at 1-800-452-9107. Callers can remain anonymous and may be eligible for a cash reward of up to $5,000 if the information leads to a conviction.