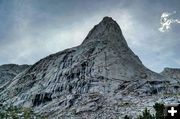 Pingora Peak

Pingora Peak, part of Cirque of the Tower in the southern Wind River Mountain Range, stands at 11,884 feet. Photo courtesy Andrew Masters.


2 Climbers killed in fall at Cirque of the Towers
Four rescue calls keep Tip Top Search and Rescue and Sheriff's Office deputies busy at end of August
by Sublette County Sheriff's Office
September 1, 2015

(SUBLETTE COUNTY, WYOMING– Aug. 31) Sublette County Sheriff's Office deputies and members of Tip Top Search and Rescue were kept busy this past weekend with four calls coming in over a three-day period.

On (Thursday) August 27, TTSAR was contacted and asked to assist Fremont County with locating two missing teenage hikers who were overdue near the Little Sandy Lake trailhead. Both air and ground assets were requested to respond, but the missing hikers had returned before team members had left Pinedale.

On (Friday) August 28, multiple reports were called into SCSO Dispatch and the Pinedale B-T District office about an injured hiker around Island Lake needing assistance. The hiker was located by a B-T backcountry ranger and members of TTSAR responded and determined that the best evacuation would be by horse. Early on the morning of August 29, two members of the TTSAR horse team were able to meet up with the ranger and hiker and assist in getting him to the Pinedale Medical Clinic for evaluation.

Also on August 28, SCSO Dispatch received a call from a hiker in the Cirque of the Tower area who reported witnessing two climbers on Pingora Peak fall over 100 feet. TTSAR was requested to assist Fremont County with the incident, and a short-haul team, including an SCSO Deputy, was flown to the area where they were able to locate the reporting party and the climbers. Both climbers, identified as Jonathan Peter MacDonald, 23, of Lander and Scottsbluff, Neb., and Keith Murray Henderson, 57, of Cheyenne, were pronounced dead at the scene. Though the deaths are still under investigation, Fremont County Coroner Mark Stratmoen believes they are accidental. The Sublette County Sheriff's Office extends their condolences to the friends and families of Mr. MacDonald and Mr. Henderson.

On (Saturday) August 29, SCSO was notified of a 16-year-old who had been injured in a horse-related accident. The contract helicopter was used to evacuate the youth, who was then transported to the Pinedale Medical Clinic for further evaluation.

For more information on any of these incidents contact Sgt. Katherine A. Peterso, Administrative Assistant/ Public Information Office, Sublette County Sheriff's Office, PO Box 701, Pinedale, WY 82941, Phone 307-367-4378, kpeterson@subso.com.