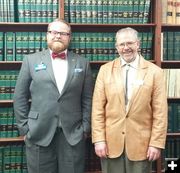 Casey and Albert

Intern Casey Terrell (L) and House District #20 Representative Albert Sommers (R) at the end of the Wyoming Legislature on March 6th.


Wyoming Legislature update: March 6, 2015
by Albert Sommers, House District #20 Representative
March 6, 2015

Hello Sublette County, this is Albert Sommers with Intern Casey Terrell wrapping it up on the last day of the 2015 Legislative Session. Casey received a scholarship today and was recognized on the floor of both chambers with the outstanding intern of the session award.

The 63rd Legislature saw its share of bills as there were over 400 total, with 206 passing third reading in their respective houses. The debate continued clear until today on SF8 State education accountability and assessment, with the bill being amended on concurrence.

Casey:
Representative Sommers had a successful session as several pieces of legislation he sponsored or co-sponsored passed into law. One such bill was Senate File 29 which allows agricultural exemptions for class C drivers of heavy vehicles and will help out many residents of Sublette County. Another bill that Representative Sommers sponsored allows banks to renew their licenses simultaneously instead of per their anniversaries, therefore removing unnecessary burdens on industry.

Rep Sommers:
The Legislature as a whole tackled some tough issues this session, one of which was the budget. Due to the recent decline in oil prices some tough decisions had to be made, but we were able to still fund several important projects such as the new science initiative at the University of Wyoming while meeting our statutorily mandated balanced budget.

Casey:
Representative Sommers has a comprehensive PowerPoint that I created with the help of the other interns that he can present at your civic groups gathering or mail to you if you would like more in depth coverage of the session. I want to thank Representative Sommers for the opportunity to work with him this session, it has been an honor and a pleasure.

Rep Sommers:
Thanks Casey for all the help this session it was really appreciated. Thank you Sublette County for the opportunity to serve you and as always feel free to contact me with your concerns at albert@albertsommers.com.