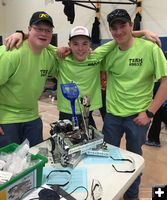 Extreme Complications Team

(L to R): Nathan Lee, Thomas Mack and Guthrie Sturman of Pinedale High School. Photo courtesy Sublette County 4-H.


Sublette robotics team competes in Wyoming State First Tech Challenge Robotics Championships
by Robin Schamber, University of Wyoming/Sublette County Extension, 4-H & Youth Development
February 20, 2015

Team Extreme Complications competed in the Wyoming State First Tech Challenge Robotics Championships (FTC) in Casper on February 14, 2015.

The team, made up of Nathan Lee, Thomas Mack and Guthrie Sturman of Pinedale High School, was sponsored by a grant from Linn Energy to the Sublette County 4-H program.

Although the team got a late start compared to most of the teams competing, they did a remarkable job at the contest ending in 11th place. The tournament included 35 teams from eight states, many of whom had already won their state championship match.

FTC is designed for students in grades 9-12 to compete head-to-head, using a sports model. Teams are responsible for designing, building and programming their robots to compete in an alliance format against other teams. The robot kit is reusable from year-to-year and is programmed using a variety of languages. Teams, including coaches, mentors and volunteers, are required to develop strategy and build robots based on sound engineering principles. Through the FTC program, students get to; design, build, and program robots, apply real-world math and science concepts, develop problem-solving, organizational, and team-building skills, compete and cooperate in alliances and tournaments, compete for a spot in the World Championship and qualify for over $13.5 million in college scholarships.

Extreme Complications Team members have been competing in robotics tournaments through First Lego League (FLL) since 2009. After aging out of the FLL program, they have stayed involved through mentoring Sublette 4-H FLL teams. Thanks to a generous donation from Linn Energy, they were finally able to re-enter robotics competitions through FTC and look forward to a great challenge in 2016!