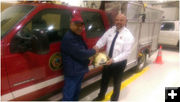 New Fire Chief

Joe Sampson (left) is congratulated by Sublette County Unified Fire Chief, Shad Cooper (right) on being appointed as the new Kendall Fire Battalion chief.


Joe Sampson appointed Kendall Valley Battalion Chief
by Shad Cooper, Sublette County Unified Fire - Fire Chief/Warden
February 26, 2015

Sublette County Unified Fire is an organization in its infancy. However, it is built upon the hard work, dedication, and sacrifice of those who gave themselves to help ensure our communities are safe from fire. These civic-minded founding fathers laid the groundwork establishing what would eventually become the organization we are today. It is critical to the success of our newly established unified fire department that we have the right people in the right positions. Given Chief Joe Sampson's previous experience as a founding member of this organization, I am confident that his appointment as Battalion Chief will best serve our customers' needs. His immense education, qualifications, and experience will ensure our organization will continue to provide excellent service to all citizens of Sublette County, and to the visitors who enjoy our spectacular community. I look forward to working together with Chief Sampson in his new position as the Battalion Chief of Battalion 6 – Kendall Valley.