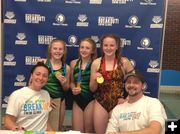 Pinedale swimmers

(L to R) Pinedale swimmers Emma Rogers, Natalie Hunt, Molly Sullivan. In front left: Olympic Gold Medalist Ariana Kukors. In front right: Olympic Gold Medalist Ian Crocker. Photo by April Rogers.

Breakout Swim Clinic helps build new skills
January 5, 2015
Three middle school girls from Pinedale traveled to Lander, Wyoming on Saturday, December 20th to participate in the Mutual of Omaha Breakout! Swim Clinic. The clinic featured personalized instruction from Olympic Gold Medalist swimmers Ian Crocker and Ariana Kukors. The clinic was hosted by the Lander Swim Club. Participating were Emma Rogers, Natalie Hunt and Molly Sullivan.