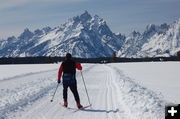 Winter X-C Skiing

The groomed Teton Park Road is a one of many winter attractions for visitors to experience and enjoy at Grand Teton National Park. Photo by Jackie Skaggs, Grand Teton National Park.


Admission into Grand Teton National Park free on Martin Luther King, Jr. Day, Jan. 19th
by Grand Teton National Park
January 8, 2015

MOOSE, WY — Grand Teton National Park will waive entry fees on Monday, January 19, 2015 in recognition of the Martin Luther King, Jr. holiday. Grand Teton will join nearly 400 other units of the National Park System in celebration of this special day as part of an effort to encourage visitors to experience the wonders of their national parks. The entrance fee for a private, non-commercial vehicle to both Grand Teton and Yellowstone National Parks normally costs $25 for seven days.

In addition to the fee waiver for Martin Luther King, Jr. Day, Grand Teton will offer free admission on eight other days throughout 2015. The other fee-free dates for the year are: February 14-16 (President's Day weekend); April 18-19 (National Park Week opening weekend); August 25 (National Park Service's 99th anniversary); September 26 (National Public Lands Day); November 11 (Veterans Day).

Visitors to Grand Teton can enjoy many winter activities from auto-touring, wildlife viewing and photography to cross-country skiing, skate skiing and snowshoeing across the snow-covered Teton landscape. A popular winter trail—that spans the unplowed Teton Park Road from Taggart Lake parking area to Signal Mountain Lodge—is open and machine groomed. Grooming takes place each and every Friday thanks to generous support from the Grand Teton National Park Foundation. Grooming also occurs most Mondays, when weather and park staffing allows. The Teton Park Road winter trail was last groomed on January 7, but should get groomed on Friday, January 9, and again on January 16 before the MLK holiday.

Dr. Martin Luther King Jr. once said, "Life's most persistent and urgent question is: 'What are you doing for others?'" In honor of a national day of service on Martin Luther King, Jr. Day, Grand Teton National Park's Nordic volunteers will be touring the Teton Park Road to greet visitors, provide support, and offer information to enhance winter visitors' enjoyment of the park.

In addition to skiing, photography and wildlife watching, ranger-led snowshoe hikes take place each Tuesday, Friday and Saturday day at 1:30 p.m. from the Taggart Lake parking area. The two-hour guided walks offer an opportunity to learn about snow science and winter ecology. Reservations are required and can be made at 307.739.3399. Previous experience is not necessary, and snowshoes are available for use during the hike for a suggested donation of $5/person. The Grand Teton Association collects these donations to help maintain the historic wooden snowshoes used for this ranger-led activity.

For complete information about winter activities in Grand Teton National Park or the John D. Rockefeller, Jr. Memorial Parkway, go to http://www.nps.gov/grte/parknews/upload/Winter_Guide_15-web2.pdf. Visitors can also obtain winter season information visiting online at www.nps.gov/grtem, by stopping at the Jackson Hole and Greater Yellowstone Visitor Center on North Cache Street in Jackson, or by calling the park's information line at 307-739-3399, between 10 a.m. and 4 p.m., Monday—Saturday.