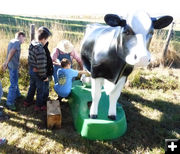 Milk a cow

Volunteer Dave Vlcek explains how to milk a cow. The kids each got to take a turn trying it.


Hands-on history
Big Piney 4th graders visit the Sommers Homestead Living History Museum
by Pinedale Online!
September 28, 2014

Big Piney Elementary 4th graders visited the Sommers Homestead Living History Museum on Friday, Sept. 27th for some living history experiences. They got to collect eggs, churn butter, milk a cow, saddle a horse, learn about harnessing horses, dig for ice, saw wood, do leather craft, make clothespin dolls, and hand wash laundry. The field trip gave them the chance to do hands-on activities to learn about homesteading in the Upper Green River Valley in Wyoming. The Homestead is managed jointly by the Sublette County Historical Society, Green River Valley Museum, and siblings Jonita and Albert Sommers. It is entirely staffed by volunteers and admission is by donation.