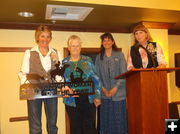 Ranch Woman of the Year

Jody Thompson (left) shows off her one-of-a-kind iron sign proclaiming her as the Green River Valley Cattlewomen's 2014 Ranch Woman of the Year, with fellow members Deanne Bradley, Brenda Carnahan and Sandy McGinnis (left to right). Photo by Joy Ufford.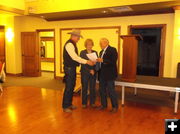 Endecott – Lifetime Members Award

Gerry and Rusty Endecott were honored with a Lifetime Members' Award for their long-time commitment to the ag and ranching ways of life they have helped support around the county. They have the Little Jennie Ranch in Bondurant.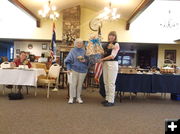 Ann Barney

Ann Barney (left) is honored at the GRVC annual awards luncheon as a Lifetime Member, as Sandy McGinnis (right) presents her with a corsage and gift basket. Photo by Joy Ufford.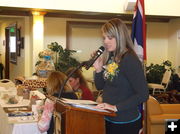 Reagan Green

Reads a letter from Senator Enzi. Photo by Joy Ufford.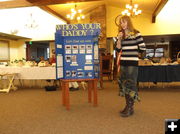 Who's Your Daddy

Lizzy McGinnis explains in her presentation "Who's Your Daddy?," for the Green River Valley Cattlewomen awards luncheon, how she tested DNA to find out which of their bulls produced extra-heavy calves. The two culprits were moved off the heifers and will rendezvous with the family's older cows now. Photo by Joy Ufford.


Thompson is 'Ranch Woman of the Year, 'Wallers are 'Friends of Ag'
by Joy Ufford
March 18, 2014

On Saturday, March 8, dozens of members, friends and families of the Green River Valley Cattlewomen (GRVC) and Cattlemen's Association (GRVCA) gathered in Marbleton for the group' special awards luncheon and banquet.

About 40 attended the GRVC luncheon at the Southwest Pioneers Senior Center in Marbleton, to applaud the group's annual "Lifetime Member" and Ranch Woman of the Year" honorees.

GRVC committee member Sheri Bohleen read aloud the nomination letters and brief, but weighty biographies of the Lifetime Member nominees ¬- with special recognition for 2014 going to Janice Kanski and Ann Barney. Kanski's sister Kathryn Briggs happily collected Janice's gift basket and certificate and Ann Barney waited humbly as the biographical sketch provided by her husband, rancher Bill Barney, was read for the crowd's appreciation.

The GRVC's highest individual honor for the "Ranch Woman of the Year" is an annual highlight, with the winning woman receiving a specially made sign to mark the award.

As details of her busy and fulfilling life were revealed to the luncheon crowd, Jody Thompson's face expressed a range of emotions - from disbelief to awe. Nominated by her children, Thompson was speechless as she received her honors.

Another GRVC awards luncheon highlight is the annual recognition of a truly special "Friends of Agriculture" - and for 2014, Paulette and Norm Waller of Waller Trucking were nominated for their unstinting support of many aspects of the Sublette County community.

GRVC's Centennial Ranch committee also noted that three Sublette County ranches have operated within the same family on the same land for at least a century. Special plaques were presented at the GRVCA banquet to the Campbell Cattle Company of Bondurant, the Richie Family of Boulder, and Thompson Ranch owners Joe and Diane Boroff.

The cattlemen also honored a special couple with a Lifetime Members' award ¬- Gerry and Rusty Endecott, now of the Little Jennie Ranch in Bondurant - for their longtime commitment to the ag and ranching ways of life they have helped support around the county.

Many who attended Saturday's GRVC awards luncheon continued on for the prime rib banquet, also held at the Senior Center in Marbleton, with about 200 people, young and old, coming from all corners of the Green River Valley and Hoback Basin to visit with good friends, have some laughs and kick up their heels to the Sundowners' great dancing music.

Photos by Joy Ufford
 
Green River Valley Cattlewomen 2014 Lifetime Member: Ann Barney
I would like to nominate a very deserving person as a "Lifetime Member." The passion and commitment of this person show through in her efforts to coordinate the fund-raising booths for the Green River Valley Cattlewomen throughout the year.

Her dedication is instrumental in selling the tickets for the quilt and other sale items. Ann is the go-to person when I have a question or need a helping hand. She is a community-minded person and is very involved in teaching the crafts of tatting and knitting, just to name a few, at the Southwest Sublette County Pioneers Center, as well as playing the music at St. John's Episcopal Church. I look up to this person's invaluable time commitment and involvement in the Green River Valley Cattlewomen. It is my honor and privilege to nominate Ann Barney.

Respectfully,
Terrie Springman

Green River Valley Cowbelles/Cattlewomen Lifetime Member – 2014: Janice Jorgensen Kanski
Janice Jorgensen Kanski was born on Aug. 1, 1937, and joined her sister Kathryn (Briggs) and parents Dorthean and James Jorgensen. Janice married Steve Kanski and bought land from Dorthean and James to build their house near Cora.

Steve and Janice have four children - Gary, David, Debbie and Diane. Summers were spent with all kids in the hay fields and Janice making lunch for the "hay crew" and sending them to Horse Creek for several weeks to put up the hay there, then returning to ranch to do the same. The main fall activity was our annual cattle drive from Horse Creek to the ranch that took two days. Janice was there to warn the cars and feed her family.

Janice was head cook and parts runner. What ever Steve needed – Janice was there to help. Janice could drive a tractor, pickup, or pull horse trailer with the girls heading to a horse show. Janice is there for her kids. Whether it was making costumes, cupcakes or driving kids across the state, she was there. Janice took an active role in the Pinedale community. From church activities, to Garden Club, Janice would drive the tractor pulling the Garden Club float during the Rendezvous parade.
Submitted by Gary Kanski.

GRVC 2014 Ranch Woman of the Year: Jody Thompson
The 2014 Green River Valley Ranch Woman of the Year was raised on a ranch near Dubois. As a child and teenager she was deeply passionate about all of the yearly ranching activities, as well as high school sports, where she excelled greatly.

After high school, she played basketball at a junior college in Wyoming, then transferred to the University of Wyoming in Laramie where she would meet her future husband.

When her husband graduated, they got married and returned to his family ranch in Sublette County. From the beginning she became her husband's top hand and her passion for the ranching lifestyle suited her well after marriage, whether it be spring calving with its late-night heifer checks, doctoring calves with grouchy mammas snorting down her neck, fencing with her husband in the summers, irrigating, haying, and bringing the cows home in the fall, and feeding through the long and frigid Wyoming winters.

She became a mother to a son and daughter over the next several years and as well as her work with her husband on the ranch, she also worked at NAPA for several years and became well-known as the "go-to lady" for finding the right parts. During this time she was also active in the community, volunteering as a volleyball coach for the high school and with the 4-H program. Her smiling face and sense of humor have always been appreciated at every branding or ranch event, on their family ranch or at the neighbors.

Through all of this, she has instilled in her children a sense of respect both for other people, animals, and the land we call home. She has taught my brother and me so many important life lessons growing up on the ranch, lessons that can't be learned anywhere but on a family-run ranch.

She has prevailed through two life-altering medical obstacles and has never let it get her down. Whatever life throws at her, she seems to bounce back stronger and more positive about life and her family. With two young granddaughters, she still shows the same passion for instilling the values and work ethic that she installed in her two children.

With much respect, I nominate my beautiful mother to be the 2014 Ranch Woman of the Year.

Green River Valley Cattlewomen 2014 Centennial Ranches
Compiled by Jonita Sommers, revised by Kailey Barlow
Three Green River Valley Centennial Ranches will be honored by the Green River Valley Cattlewomen at the Green River Valley Cattlemen's Association banquet and at the State Fair in 2014. Sponsoring this recognition at State Fair will be the Wyoming State Historical Preservation Office, Wyoming Department of Agriculture, Wyoming Stock Growers Association, Wyoming Wool Growers Association, Wyoming Livestock Roundup and Wyoming Rural Electric Association. Thirty families in the Green River Valley have had the original homestead in the same family for a hundred years. Ten families have been here for a hundred years, but not continuously on the same land.

The three centennial ranch families honored in 2014 are:
Campbell Cattle Company
The Campbell Cattle Company in the Hoback Basin near Bondurant has been in the Campbell family since 1913. Grandfather Lorenzo "Lennie" Campbell homesteaded with his wife, Rita. The original homestead cabin is still being lived in on the ranch by their granddaughter Katherine Campbell. The cabin has been worked on by adding a foundation and other rooms, along with running water and electricity. In the beginning, Campbells had milk cows and sent the cream by mail for an income. The family was one of the first couple of families in Sublette County to start raising Angus cattle, which they still raise today.

They also still put their hay up in loose hay stacks.
Lennie and Rita's son, Walden, along with his wife, Patricia, took over the ranch as the second generation. The third generation to own and operate the ranch is Kevin and Lennie Campbell. Heidi, Walden, Anna, and Jenni are the fourth generation to grow up on the ranch. Heidi's daughter is the fifth generation in the ranch family.

Ellen Richie and Sons Ranch
In 1913, the Ellen Richie and Sons Ranch was started by Everett "Ebb" Richie when he bought Bill Smith's relinquished homestead for $2,000 on Muddy Creek east of Boulder, which is known as the Muddy Place. In 1923, Ebb married Ellen Williams. During 1937, they bought what became the East Fork Place and it just happened to be the first place Ebb worked on when he came to the country in 1910.

Richies raised Hereford cattle, a small band of sheep, and Percheron work horses. Ebb died in 1955 and the ranch became the Ellen Richie and Sons Ranch. The sons, Jep and Norm, bought the Vible Place in 1957. Today, Norm and Jep, along with Jep's children Eb, Carole, and Lynne own the ranch.

The fourth generation of children has been and is being raised on the ranch. When Jep's great grandchildren come to visit, there is a fifth generation on the ranch. At the Muddy Place, there is still an old bunkhouse and barn. The homestead cabin burned down. They are a Hereford cow/calf and yearling operation today.

Thompson Ranch
Max, Jr. "Joe" and Dianne Boroff own the Thompson Ranch that has been in the family since it was homesteaded in 1914 on Horse Creek near Merna and west of Daniel. Harry Thompson homesteaded the ranch and lived there with his wife, Laura Richardson Thompson. Harry acquired several other homesteads over the years to complete the ranch.

Harold and Olie Thompson, sons of Harry and Laura, owned the ranch next. The third generation on the ranch is Joe and Dianne. Joe's mother, Miriam Thompson Boroff, was a daughter of Harry and Laura. Joe and Dianne raised their two girls on the ranch and grandkids come to visit, so five generations have been on the ranch. Over the years, Thompsons ran sheep, dairy cows, and beef cattle.