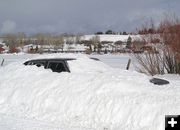 Buried car

Please move cars off the roadsides and alleys so they don't become obstacles in the way of snowplows.


Please move vehicles off town streets & alleys for snow plowing
by Pinedale Online!
January 8, 2014

In order to facilitate snow removal from city streets, Pinedale town managers ask residents to move vehicles every 48 hours so snow plows can keep the streets and alleys cleared. This includes snowmobiles, trailers, boats, 4-wheelers, or other obstacles that may hinder the plowing process. Vehicles that are in the way and have not been moved in 48 hours may possibly be cited by the Pinedale Town Municipal officer, and possibly towed. Also, please keep trash cans away from the curb on off-pickup days and remove them promptly from the roadside edge after they are emptied on trash day to protect your receptacles and so the snow plows can clear the roadway unimpeded.

Current Town ordinances make the responsibility of clearing sidewalks the responsibility of the respective resident or business owner after snowfall. During the winter, the yellow No Parking markings may not be visible on the curbs and it is appreciated keeping those visible so drivers can see them to know where they can park. Over the past several years, Pinedale has made a focus on creating a pedestrian-friendly community, both summer and winter, especially around the downtown core area. The Town is working to methodically install sidewalks throughout the community and into the residential areas as time and money allows. Thank you to everyone who has kept their sidewalks cleared and passable for pedestrians during the winter season.