The Hotbox Girls

(L to R) Daniel Weeks plays "Nathan", seated, and "The Hotbox Girls" Rachel McGinnis, Marci Udy, Stephanie Jordon, Valerie Vidal, and "Miss Adelaide" Morgan Holz. Photo by Matt Daniels.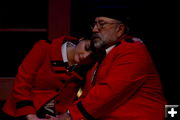 Sarah and Arvide

(L to R) Celeste Wamsley plays "Sarah Brown" and Jim Malkowski plays "Arvide", her grandfather. Photo by Matt Daniels.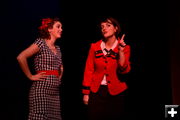 Adelaide and Sarah

(L to R) Morgan Holz plays "Adelaide" and Celeste Wamsley plays "Sarah", the two female leads. Photo by Matt Daniels.

'Guys and Dolls' hits the stage Nov. 7, 8 & 9th
Pinedale Community Theatre live stage production
November 6, 2013
Cast members and production crews are polishing up the "Guys and Dolls" show in anticipation of opening night Thursday, Nov. 7, at 7 pm at the Pinedale High School Auditorium. The production will also be performed on Friday and Saturday, Nov. 8th and 9th. Tickets are selling rapidly at Office Outlet in Pinedale, Rock Rabbit and the Cowboy Shop. If tickets are still available they will also be sold at the door. Adults $13, students $7.

Guys and Dolls is a Tony Award winning musical with music/lyrics by Frank Loesser. Set in the 1920's and 30's in New York City, the play was first performed on Broadway in 1950 with a movie starring Marlon Brando and Frank Sinatra produced in 1955.

Cast: Dave Kieffer, Celeste Wamsley, Daniel Weeks. Morgan Holz, Kim Buchanan, Jim Malkowski, Leslie Rozier, Gwen Blackwell, Rebecca Stroklund, Jocelyn Moore, Matt Daniels, Shawn Buchanan, Adam Stucki, Mark Kalal, Zach Lybbert, Sam Rogers, Neil Stroklund, Dave Katona, Keaton Cross, Marci Udy, Valerie Vidal, Rachel McGinnis, Stephanie Jordan, Keri Cross, Lincoln Proud, Tyler Trujillo, Gracy Carpenter, Peggy Van Linda.

Orchestra: JJ Huntley, Chandra Stough, Sue Holz, Katie Smith, Ryan Ptasnik, Craig Sheppard, Justin Smith, Luke Myszewski, Doug Hopkins, Bill Plummer, Jason Fritts.

Board of Directors: Valerie Lee, Co-Producer, Managing Director; Jo Crandall, Co-Producer, Development; Sue Holz, Secretary, PR and Volunteer Coordinator; Madeleine Murdock, Design; Kari DeWitt, Stage Manager, Technical Director; Candy Herda-Scott, Assistant Stage Manager, Musical Advisor.

The Pinedale Community Theatre is a non-profit, volunteer-driven organization dedicated to providing quality theatre experiences for audiences and participants of all ages. They currently operate under the administrative umbrella of the Pinedale Fine Arts Council, with funding from the Wyoming Arts Council, the Sublette County Recreation Board, the Wyoming Community Foundation, and community donors.

For more information, go to www.pinedaletheatre.com.

Dress rehearsal photos by Matt Daniels.