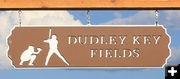 Entry sign

The entryway and sign were created by Dudley's long-time friend, Jack Hegardt.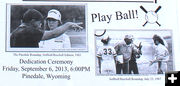 Dudley Key

Long-time Pinedale resident, Dudley Key loved baseball and fast-pitch softball. He was instrumental in getting prorams going for these sports in Pinedale. Richard Dudley Key, May 26, 1932 - September 13, 2007.


Dudley Key Ballfields dedication
by Dawn Ballou, Pinedale Online!
September 11, 2013

The Town of Pinedale held the dedication for the new Dudley Key Ballfields on Friday, September 6th. Presentations were made by Pinedale Mayor Stephen Smith, Margaret Noble with the Pinedale Park and Tree Board, and Jack Hegardt, long-time Pinedale resident and ballplayer.

Mayor Smith said he was very moved several years ago when a group of Little League ballplayers came to a Pinedale Town Council meeting and asked the Town to please build them a Little League field of their own. The Mayor was proud to have their new field be a part of this dedication. Their new diamond is located to the east of the south ballfield. The improvements also include a new soccer field to the north of the Little League diamond. There is also a new parking lot for that side which is accessed from Hennick and Half Moon Streets (east and north of the Medical Clinic and Ambulance Barn).

Jack Hegardt built the new rockwork and log entryway into the ballfields. Hegardt was a good friend of Dudley Key and was honored to help make the memorial in his name. He said Dudley Key loved fast pitch softball, and sports was a big part of his life. He enjoyed getting friends together to play and he was instrumental in making the Pinedale ballfields a place citizens have today for recreation.

In the early days, the fields were used for baseball and fast-pitch softball. Later, slow-pitch softball also became popular. Interest grew and a couple of menís teams formed. Not long afterwards, ladies also wanted to play and several womenís teams formed as well. As interest grew, Little League teams for kids formed. In more recent years, soccer has also become very popular and teams have used the open space for their games. With the new facility renovation, the soccer teams will get their own dedicated soccer field to practice and play on. Players will have to be patient and wait until next season to use the fields so that the lush new grass sod has a chance to get established.

The inscription on the entryway plaque reads, "Dud loved baseball and fast-pitch softball and wanted everyone to enjoy them. In the 70ís and 80ís his tireless efforts inspired team play of all ages here in Pinedale. His push for the gamesí growth is why we have these fields today."

Photos by Dawn Ballou, Pinedale Online!