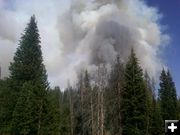 Packer Creek Fire

Friday, August 2, 2013. Photo courtesy Bridger-Teton National Forest.


Packer Creek fire burning on Bridger-Teton National Forest
by Interagency media release
August 2, 2013

The Packer Creek Fire is burning on the Bridger-Teton National Forest approximately 22-miles north of Daniel Junction, Wyoming.

The fire was reported on Friday, August 2 at approximately 2:00 p.m. The fire is burning in continuous timber on the Pinedale Ranger District of the Forest. Interagency firefighters are currently suppressing the fire. At 3:00 p.m., the fire was reported to be 20 acres in size. As of 4:00p.m., the fire has grown to nearly 40 acres.

There are no roads or trails that have been closed as a result of this fire. The cause of the fire has not been determined.

While the Teton Interagency Area is currently rated as being in Moderate Fire Danger, warm, dry afternoons and increased wind speeds can create favorable conditions for active fire spread.

Additional resources for the Packer Creek Fire include support from Sublette County fire department, a Type 3 helicopter, and a Type 1 helicopter, as well as a few fire engines.

The different types of helicopters used in wildland fire are distinguished by their capabilities. These capabilities are considered when a helicopter is ordered in relation to the missions they are expected to be flying. The Type 1 helicopter 15 can carry up to 700 gallons of water. The Type 3 helicopters are smaller and carry up to 100 gallons of water

Additional information on the Packer Creek Fire is available at www.tetonfires.com.