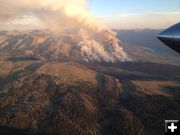 Green Fire

View showing the Roaring Fork drainage with Green River Lakes in the distance. Photo taken Tuesday, August 6th. USFS courtesy photo.


August 7 Packer Creek, Kendall, Green Fire update
by Bridger-Teton National Forest
August 7, 2013

These fires are burning in the Bondurant and Upper Green River drainage area of the Pinedale Ranger District. All of the fires were caused by lightning.

At a glance:

Packer Creek Fire: 401 acres, 40 percent contained, burning in heavy timber, and dead and down trees on a ridge between N. Beaver drainage and Little Twin drainage approximately 22 miles north of Daniel Junction. Began Aug. 2.
Resources: 226 firefighters, 3 Type I Handcrews, 3 Type II Handcrews, 1 Type II Helicopter, 2 Type III Helicopters, 11 Engines, 1 dozer, and 1 water tender.
Activities: Fire is being fully suppressed. Firefighters are laying down 62,000 feet firehose, securing fireline and mopping up spot fires.
Closures: An Emergency Area Closure has been put in place for public and firefighter safety. The Packer Miner Road (FS Roads #606, 607, 608, & 609) is closed at the forest boundary for public
safety. The public is asked to avoid Miner Creek Road.

Kendall Mountain Fire: 75 acres. Burning in high, rocky terrain in the Bridger Wilderness, east of Boulder Basin in the Upper Green River Valley. Began Aug. 1. Smoke is very visible from the fire.
Activities: The fire is being contained and controlled. Water drops will be done today.

Green Fire: 540 acres. Located roughly 45 miles from the turn-off of U.S. Highway 191 in the Upper Green River Valley. Spotting and torching in Roaring Fork Basin. Began Aug. 1. Fire grew because of wind and warm temperatures.
Activities: Smokejumpers and Helitack crews, with support of helicopter and fixed wing recon flights, will monitor the fire, identify and implement containment lines, and patrol the fire area to provide for public and firefighter safety. Aircraft are doing water drops on the fire.
Closures: Trail 094 (a portion of the Highline Trail) is closed due to fire activity. An additional closure order is in process for the Roaring Fork footpath to the west extending to the Green River and the Roaring Fork Trail to the east extending to Crescent Lake due to fire activity. The fire may rapidly expand into areas with dead standing timber and dry dead and down fuels.

FIRES IN THE AREA
Currently there are six fires burning on the Bridger-Teton National Forest and Grand Teton National Park. Fire danger for both the Park and Forest has been changed to High Fire Danger. Please use caution while recreating on public lands and completely extinguish campfires.
For more information on these fires call (307) 360-7826, or visit www.tetonfires.com, or www.inciweb.org. To report new fire activity call the Teton Interagency Dispatch Center: (307) 739-3630.