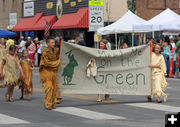 Meet Me on the Green

The Rendezvous Pageant cast was in the Rendezvous Parade on Saturday. The performance was on Sunday.


Green River Rendezvous 2013
by Pinedale Online!
July 14, 2013

The Green River Rendezvous is held the second full weekend in July in Pinedale. This year is was July 11-13th. Events include the Rendezvous Walk/Run, parade, downtown street fair, living history presentations at the Museum of the Mountain Man, Rendezvous Pageant, and much more.