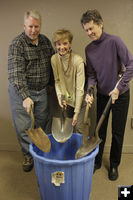 Shovels needed

(L to R) Sid Stanfill with Sublette County Library, Laurie Latta and Jo Crandall with PFAC.


PFAC needs your old shovels!
by Pinedale Fine Arts Council
May 17, 2013

The Pinedale Fine Arts Councilís (PFAC) Visual Arts Committee (VAC) needs 300 old shovels! We are honored and thrilled to be bringing in the artist Patrick Plourde, who will be building pinecones out of old metal shovel heads for the Ex|Site: 3D Project. VAC is asking Sublette County to donate any old rusty shovels to be used in for the project at various locations through early August.

Shovels can be dropped off at receptacles located at The Sublette County Visitorís Center, Rock Rabbit, the Sublette County Library, The Pinedale Fine Arts Council office, the Town of Pinedale and the Sublette County Landfill. As well as at the following events:

Community Clean Up Day at Rendezvous Pointe (Saturday, May 18, 2013)
PFAC Summer Events at American Legion Park (June 29, Thursday, July 18, Friday, August 16)

For more information call 307-367-7322.