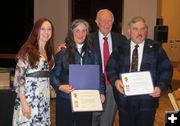 Louise Winney - Paul Harris Fellow

Pictured (L to R) is Jackson Rotary Breakfast Club President Elizabeth Trefonas, Louise Winney, Dinner keynote speaker Lynn Hammond, and Bill Winney. It was a great evening as Lynn Hammond described much of the work of the Rotary Foundation throughout the world. Photo courtesy Bill Winney.

Louise Winney receives Paul Harris Rotary Fellowship recognition
March 15, 2013
Louise Winney, of Bondurant, was one of five persons recognized on March 9th at an honorary dinner at the National Museum of Wildlife Art in Jackson for three Jackson Hole Rotary Clubs and two Idaho Clubs.

The Rotary Foundation supports international campaigns such as eradicating polio, as well supporting reading and literacy, Louise's passion. Donors of $1,000 or more to the Rotary International Annual Programs Fund, PolioPlus, or the Humanitarian Grants Program, or people who have that amount contributed in their name, can be recognized as Paul Harris Fellows.