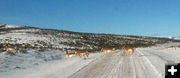 Antelope crossing

A large herd of pronghorn cross the South Cottonwood Creek road on Christmas Day, Tuesday, Dec. 25th


To Grandmotherís house we go
by Pinedale Online!
December 25, 2012

In Wyoming, the road to Grandmotherís house for Christmas might easily be miles from any paved road and oncoming traffic of the four-legged, rather than four-wheeled, kind. Thankfully, the winter storm let up and it was blue sky and sunshine all day long in the Upper Green River Valley for Christmas Day.