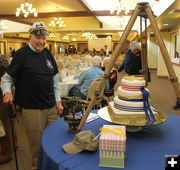 Paul's Birthday Party

Friends and family came to celebrate Paul Scherbel's 95th birthday at the Marbleton Senior Center on Saturday, Oct. 20th.


Happy 95th Birthday Paul!
Paul Scherbel
by Dawn Ballou, Pinedale Online!
October 21, 2012

A big crowd turned out for the 95th birthday celebration for Cdr. Paul N. Scherbel, USNR at the Southwest Sublette County Pioneers Senior Center in Marbleton on Saturday, October 20th. Many family members came for the celebration. Scherbel is a long-time resident of Marbleton. He is still active and continues working in the family survey business he established.