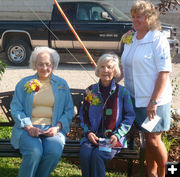 Retiring Board members

(L to R) Katie King, Marj Guio, and Cara Olson (standing). Photo courtesy Green River Valley Museum.

Green River Valley Museum news
Open House and honoring three retiring board members
August 29, 2012
The Green River Valley Museum in Big Piney held an open house for the dedication of the new Wyoming stamp on Thursday, August 16th. It was the final stamp of the "Flags of our Nation" multi-stamp series featuring the Stars and Stripes, the 50 state flags, five territorial flags, and the DC flag.

The Flag series started in 2007 with ten stamps and this final set features the flags of Texas through Wyoming. Each stamp design includes artwork that provides a "snapshot view" of the state represented by a particular flag. The representative image for the Wyoming stamp is the state flag, complimented by two big horn sheep.

The artist of the Wyoming stamp was Tom Engeman, a resident of Bethany Beach, Delaware. He created the highly detailed flag portraits on the stamps, quite a challenge considering the intricate design of the seal and the size of the stamp. Over the years, the artist's colorful and imaginative designs have appeared on many Postal Service products, including the National World War II Memorial stamp (2004) and the nationís first Forever Stamp (2007).

The Green River Valley Museum also used this event to hold a party to honor three retiring Museum board members, Katie King, Marj Guio and Cara Olson.

Museum Director Jeannie Lockwood said, "Katie and Marj have been here from the beginning when they operated on a budget of less than $1,000 for the first year and volunteers were abundant and had time. Cara filled big shoes when Tharon Thompson stepped down as president and never wavered in leading the museum in the right direction and keeping us fiscally responsible and reining me in when necessary. All three women have a respect and a love for their community that all the people involved with the museum have passed on to all of us. This museum stands as a testament to and for our community and the people that care about it."

Thank you to Jeannie Lockwood for photos and her contribution to this story.